First and Battery Starbucks
Melody, March 13, 2010
15
3 min

read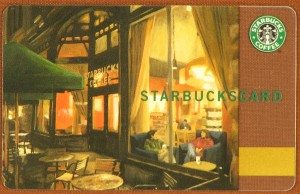 Take a look at the Starbucks gift card featured as the photo for this blog post. It is Starbucks store 3218, in Belltown, at First and Battery, in Seattle. It lies in the historic Austin A. Bell building, designated a historic landmark in Seattle in 1978.  From the City of Seattle historic preservation photos site, there is a nice photo of the Bell Building here.  From the Wikipedia commons, yet another photo here, indicating year built as 1889.  My own research on this building turned up a year of construction as 1908.  Either way, it's over a hundred years old, and a beautiful example of early twentieth century architecture.  The building was originally built as a hotel, and currently it is retail on the street level, and condos above it.
The store itself has retained a classic early 20th century feel inside, and doesn't look like the cookie-cutter Starbucks of the late 1990s.  My understanding is that in the very early 1980s much of the interior of the building was destroyed by a fire. Today, the odd doors and windows hanging on the inside of the Starbucks are historic pieces of the original building, salvaged from the fire.  This is one store that I hope the Starbucks store design team doesn't lay their hands upon ever.
This gift card sits in thousands and thousands of Starbucks across the country.  If a customer asks a barista, "hey what store is that featured on the card?" then barista who has read this blog entry can say, "it's the First and Battery Starbucks in Seattle."  Obviously the card photo was taken at night with illumination coming from inside the Starbucks, and perhaps it has been photo-shopped a little (I honestly don't know).  Actually, it is probably common knowledge already among baristas that the card is the First and Battery Starbucks.
As a reminder, a person can use any Starbucks card to participate in My Starbucks Rewards. Once the cardholder reaches the "gold" level of rewards there is no need to give up the favorite card. Starbucks mails customers a gold card with a name on it, but the person enrolled in My Starbucks Rewards can continue using his or her favorite card whether that is a mini card, a (Red) card, a Conservation International card, a customized card, an old black version of the Gold Card, a holiday card, an old shareholder card … ANY card. The requirements under the new My Starbucks Rewards simply are that the card is (1) registered (2) loaded with money on it (3) used as a form of payment at the register.
This Starbucks is just a few blocks away from a small business called Seattle Custom Framing.  If you have something you need framed, be sure to drop by Seattle Custom Framing and tell Molly that Melody says "hi".  That business has framed several items for me, and currently helps me out with some of the photography featured in this blog.  And Molly likes bold coffees too!
It wouldn't be a StarbucksMelody.com blog post without a few photos to go with it.  With respect to the one interior shot below that seems to have an odd blue lighting effect, I should just put on the record, that I have no idea what I did to create that effect. It was a bright sunny late morning as I snapped a few pics:
Related posts