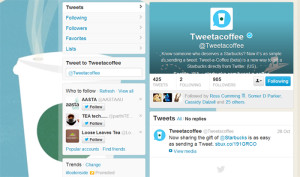 News: Today Starbucks launched a new way to give a friend a Starbucks gift card.  It is called "Tweet a Coffee." You link your Twitter profile to your Starbucks profile, and then can send tweets of $5 Starbucks gift cards. You can use any major credit card as a form of payment, but the first 100,000 to pay for their Tweet A Coffee with Visa will receive a five dollar Starbucks gift card back to them.  (One time $5 gift back).  The official blog post on this new Twitter Starbucks card gifting is here.  Since I'm still pretty addicted to Twitter (I am @SbuxMel) I think this could be fun.  My only worry is that some people don't check their Twitter feed all that often, so I suppose it's possible that a gift could be missed.  If you have a Twitter profile, start using it. 😉  Also, this is available in the U.S. only.
Have you tried "Tweet a Coffee" yet?
On a change of topic, I thought I'd entice everyone about the Starbucks holiday season, which is right around the corner.  (You might want to use all those Tweet a Coffee gifts on the holiday beverages, which start November 1, 2013).  A reader sent me this image of a Starbucks 2013 holiday gift card.  Very cute little gift card tag!  Enjoy!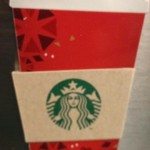 Related posts