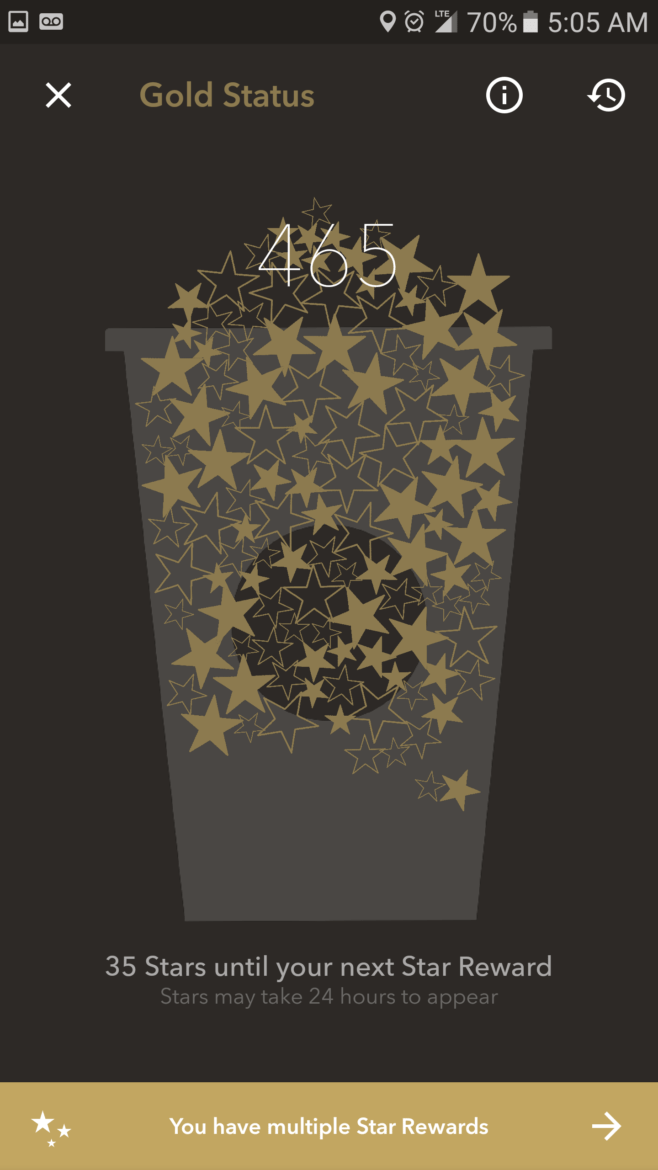 I've seen many customers confused by the new Starbucks Rewards system. One common question seems to be this: "The app shows that I have 'multiple rewards'. How many do I have? When do those rewards expire?"
First off, if you are not a member of Starbucks Rewards, start out by grabbing a Starbucks card at the register of any Starbucks store. Tell the barista that you would like to put $5 (or more) on the card. And then register the card at Starbucks.com. You can also register a Teavana Card or Evolution Fresh card. You can use your registered card as a form of payment and earn stars at all of the following Starbucks-operated businesses:
Starbucks stores (some licensed stores or 'we proudly brew' locations might not participate in Starbucks Rewards).
any Evolution Fresh store
any Teavana store
The Starbucks Reserve Roastery in Seattle.
Once you reach Gold status, you earn rewards that can be used for free food or drink. (Beer and wine are excluded from being a free reward drink.)
You might be asking, "How many stars do I have?":  There are two ways to look at how many stars you have. You can download an app for your iPhone or Android phone. Or you can log into the Starbucks.com website and look at your stars. (I attached a screen cap from my phone – yours may look a little different.)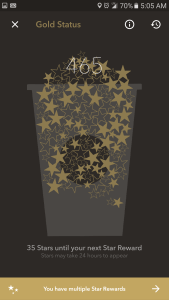 Notice that at the bottom of the screen, it says "You have multiple Star Rewards."
How many Star Rewards do I have? I take 125 and divide it into the number of stars that it shows that I have. So, at the time that I took this screen cap, I had 465 stars. 465 divided by 125 is 3.72. If I have 465 stars, then I have 3 rewards that I can use. The fractional parts simply stay unused until you earn enough stars for another whole reward.
Right now, I have 542 stars. So, 542 divided by 125 is 4.336. That means I can used 4 rewards.
When do my Star Rewards expire? This is a bit tricky. In theory, it is possible that your rewards last as long as six months. When your stars expire, the reward expires with it.  So if I earned 100 stars April 1, 2016, and 25 stars on May 1, 2016, I would have 125 stars and one reward. The 100 stars earned on April 1, 2016, would expire on October 1, 2016, since that is six months after earning them. That means, I would need to use that "reward" before October 1, 2016. In other words, you would need redeem your 125 stars for a reward before the earliest portion of the stars earned expire. And stars expire 6 months after earning them.
What about my birthday reward? Has that changed? Your birthday reward is unchanged. Your reward loads on your Starbucks.com profile, usually 2 days before your birthday. The reward has 4 day window of time to use: 2 days before your birthday, the day of your birthday, and one day after your birthday.
You can, theoretically track when your stars expire with the app – click on the tab that says "Star Expiration":
It is possible that when you click on Star Expiration, you might see a bunch of zeros. Since the new program is not anywhere close to 6 months old, nobody should have stars that are about to expire.
You'll notice that my "Transaction" section is empty. I don't know why but it's not giving me recent transactions. As I was writing this article, I called Starbucks Customer Service.  I spoke with Christina, literally like 15 minutes ago (Saturday, May, 14, 2016 at roughly 10:40 AM PST). I had thought that maybe she could tell me if there was a known bug with the Android version of the app. I called from my landline and uninstalled and reinstalled the app as we talked on the phone. Still nothing. Christina didn't know why I have no transactions. She gave me a case identification number and told me that she'd escalate the call. And that was it. I could call back in a few days to see what happened. I recall the last time that I called Customer Service and was promised a call back, nothing happened. That was a long time ago though. I probably call Customer Service no more than once per year. At the end of the phone call, mostly just out of curiosity, I asked, "Have you ever heard of the website StarbucksMelody?" She said, "No." I vaguely remember asking the same question last time, and getting the same response. In any event, hopefully you have an app where both your Transaction section and Star Expiration sections work. Mine do not.
We won't really have a good sense of how the 6 month star expiration affects customers ability to redeem rewards until about mid September to October, when this new Starbucks Rewards program is about six months old.
Theoretically, let's say that you're at Gold Status and you earned 100 stars on May 1, 2016. Let's imagine you did not return to Starbucks until October 15, 2016, and you earned 25 stars. You would have enough stars to redeem for a reward. But the first 100 stars will expire on November 1, 2016.  Under this scenario, you've got 15 days to redeem your stars towards a reward. As I mentioned, it will be interesting to see how this plays out as we get further into the year.
Don't forget to make the most of your rewards! You can customize a drink, get a bistro box, a salad … lots of wonderful things!
Related posts