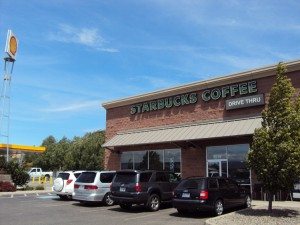 Store review – Ellensburg, Washington (I-90 and Canyon Road)
In some twitter conversation, I was asked to do a Starbucks store review in Eastern Washington. This gave me the crazy thought that I could just drive to Ellensburg on the Fourth of July, and still make it back to Seattle in time for my evening festivities.
Quickly I got onto I-90 and headed east for the drive to Ellensburg.   About 90 minutes later I arrived at Starbucks store #2808, on Canyon Road, in Ellensburg, Washington.  I had successfully made it to Eastern Washington.  I arrived at  about 1:30 p.m. and suddenly I was a little hungry.  Much to my surprise, there was no food.  No hummus plate.  No salads and sandwiches.  I didn't realize that a short distance away from Seattle, the food offerings would be different.  I ordered Perfect Oatmeal (with 2 pumps dark cherry syrup), grabbed a Horizon Vanilla Milk, and asked for the bold pick coffee.  From the signs I thought that Verona might be available.  A friendly barista informed me that there was none ready to go, but if I didn't mind waiting a few minutes should would do a "pour over" for me.  I said that was great, and that a pour over would be fine.  At the register, Iced Via was set up to be sampled also.
I waited briefly on the coffee, and moments later the same barista came back to me and said that they didn't have Verona, and that they had Kenya, and "would that be okay?"  I said that was fine.
I sat down inside the store, drinking milk, eating oatmeal, and after a few minutes, drinking my coffee.  This store also has a drive-thru, by the way, though I didn't go through it.  The entire time I was there, I saw four store partners working.
There seemed to be a steady stream of customers coming through the store as I sat in the cafe, watching the store.  The music was too loud.  The condiment station looked neglected.  The store appeared to be completely out of napkins.  A roll of paper-towels was situated on top of a napkin dispenser, signaling that one should grab a paper-towel if a napkin is needed.  There were only a few straws left.  The condiment area needed wiping off.
Other than the eye-sore condiment station, the store looked reasonably clean.  The bathroom was clean – This store has two unisex restrooms.  There was no plunger in the restroom.  The floors looked fairly clean, with a few crumbs and such here and there.  There was an old pastry bag sitting near the window the entire time I was there.
At some point someone must've noticed the condiment counter. While I sat typing away, the same register barista who took my order came out, clearly on a break (not wearing an apron), and picked up a beverage from the area immediately next to the condiment station.  I stayed in the store for a little less than one hour, and alas, that poor condiment counter remained the major eyesore.  Straw wrappers on top of it, chocolate powder, and milk droplets here and there, and with papertowels instead of napkins.  It also occurred to me that this store has sort of messy customers too.
My oatmeal was perfect.  The Kenya was fine. The baristas were friendly enough.  Well, all the most important things were attended to.
I really hate posting anything less than a glowing store review, but I have to be honest.  And would I recommend this to a friend? Yes.  Having friendly baristas is much more important than the condiment counter! But this is not a glowing review.  I've never understood why some stores have baristas who come out into the lobby and quickly attend to small things like crumbs on tables, or milk droplets at the condiment station, and others simply do not.  It was a ho-hum visit.
Epilogue:
I decided to use my treat receipt before I left the store.  I got in line again, and this time I ordered a Grande strawberry blended lemonade.  I saw five baristas working behind the bar: One talking on a drive-thru headset, one at the bar, one at the register, one floating around, and another doing something with a big mat in her hands.
With her Sharpie in her hand, the same barista as earlier asked me for my name for the cup.  I replied, "Starbucks Melody."  She looked at me funny, no hint of recognition in her face. "That's your name?" she said.  I said "yes" and explained that I produce my own Starbucks blog.  I said, "I always like to ask baristas what their favorite coffee is. What's yours? And she replied, "Komodo Dragon."  That is a good answer I thought.
North Bend, Washington, #13730
On my way back into Seattle, I decided to go into the North Bend Starbucks right off of I-90.  I previously wrote a review about this store here:
Store Review: North Bend, Washington
I was only in the North Bend store about ten to fifteen minutes, but the contrast to the Ellensburg store was so stark that I had to write about it.  I picked up a  hummus plate, and a barista enthusiastically asked me if I had tried it before.  My beverage was ready fast and was delicious (tall whole milk 2 pump vanilla chai).  I saw local photography hanging up over the condiment counter. I love seeing local art or some local flair to a store.  The condiment counter was spotless. I was stunned that although I wasn't in the store very long, I saw a partner hustle out and check the condiment area, quickly wiping it down, while I ate my hummus plate.  I saw a customer come in and get grounds for her garden while I was there!  That seems to suggest to me that the store is at least somewhat connected to repeat customers – It must know that someone wants those grounds.
The contrast between the two stores was significant.  This was the second time I'd seen the North Bend Drive Thru be an impressive store.  Would I recommend this store to a friend? Yes.  And if I had to pick between the two stores, I would definitely pick the North Bend Drive Thru. Sorry!
Photos of Canyon Road in Ellensburg:
Related posts