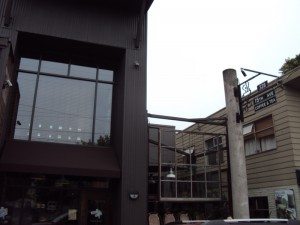 The Starbucks store known better as "15th Avenue Coffee and Tea" will have its one year anniversary on July 24, 2010.  I decided now is the time to take another look at this store, with updated photos and information, as well as a little Tazo Tea education at the same time.  While I might mention teas that are not commonly found at your local Starbucks, I always consider Tazo Tea fair game for this blog: Readers might be able to visit their local Whole Foods or other similar such grocery store and purchase the less commonly found Tazo Teas there.
Today (July 18, 2010) I joined in the cupping, arriving shortly before 11:00 a.m.  Barista-Amanda greeted me warmly (as always) and said, "Hey you're here for the cupping? What do you want to cup today Melody?".  I said, "Well, I'm not really a tea drinker but I think my tea drinking readers would like that. I seem to have a lot of them reading the blog."
*****Tea cupping July 18, 2010:*****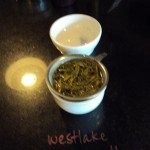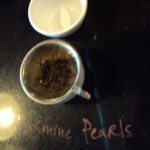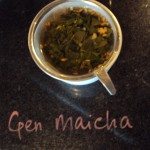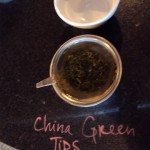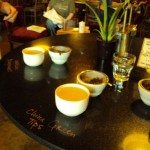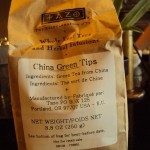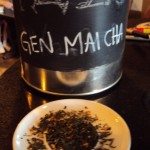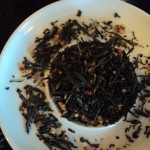 Today we cupped four green teas.  They were Westlake Dragonwell, China Green Tips, Jasmine Pearls, and Gen Maicha.  All tea comes from the plant Camellia Sinensis.  Whether it is a white, green, or black tea has to do with how much the tea has been oxidized.  Tea can be processed in ways to bring out extreme flavor variety.  For example, the Jasmine Pearl tea has been infused with Jasmine flowers, giving a truly distinctive flowery flavor, and the Gen Maicha tea has toasted rice in it.  When we smelled the un-steeped Gen Maicha tea, it smelled like cereal!  The darkest teas, like an oolong tea, are charcoal fired, and a white tea has not been oxidized at all.  The best tea comes from young, fresh shoots.  Herbal tea does not come from the plant Camillia Sinensis at all and technically is not really a "tea".
The teas steeped for about three minutes and then each of us tasted them.  The Gen Maicha tea was an almost savory tea.  I could get used to that! It was by far my favorite.  I have included a couple of pictures too showing the Tazo Tea packaging that these unique teas are packaged in.  I'll be honest, I don't know if a normal Starbucks has these Tazo Teas, but even if they do not, it seems like these shouldn't be too hard to find at many grocery stores.
As a reminder, 15th Avenue Coffee's own blog has featured tea entries several times, most recently discussing the tea Yunnan Pu-Erh.
And for even more on the topic of Tazo Tea, I have a previous blog post here on the Tazo Tea headquarters in Portland, Oregon.
However, I am not going to spend too much time talking about tea since I want to also cover what changes have happened over one year at this store:
*****One year review of 15th Avenue Coffee and Tea:*****
First off, if anyone reading this is confused about what is special about this highly unique Starbucks, I recommend this previous blog post as the primer for today's post:
A lot has changed since the store was brand new.  The store doesn't have the same manager as in the beginning. "Jay" is the store manager.  The first store manager was "Jenna".  A number of baristas have been there for a full year. There are many new faces too.  The coffee offerings have come and gone, as small batches of various international coffee beans cycle through the store.  There still is a coffee or tea cupping at 11:00 a.m. every single day.  Every beverage is still a delicious hand-crafted beverage with shots pulled from a La Marzocco machine.
One thing that impresses me about this store is how they're very good at getting customer participation in their cuppings.  I have attended numerous store cuppings, and lots of people who are visiting join in.  I have cupped with random SSC partners who were passing through, regulars, friends that I brought, and wonderful people who have traveled from all over to visit this unique store.  The day of the tea-cupping (above, July 18, 2010) a store regular named "Loretta" wanted to join in.  It was a lot of fun! She was definitely having fun talking about tea.  Loretta is a great regular. I know I have seen her there many times, but today I chatted with her about her relationship to the store and I learned that she credits herself for keeping this store open and alive! Thank you Loretta! I owe you too! She had petitioned Starbucks to save the store.  As you may recall, before 15th Avenue Coffee and Tea was "streetlevel" non-branded store, it was in fact a normal Starbucks.  There is a Seattle PI article about Loretta here.
Another thing that has not changed is that the baristas are all still full of personality.  Fortunately, the baristas at this store are completely used to the fact that I am constantly snapping photos of the store (all of the photos for today's blog post were taken on July 18, 2010).  At a couple of points I was joking around with the baristas and they saw me with the camera and decided to offer the blog readers some of their best "poses".  You'll see what I mean below.  These partners are wonderful.
Some of the most significant changes to 15th Avenue Coffee and Tea over the course of one year are as follows:
Originally the store was designed with ALL hard seats. The store now has some soft-seating "comfy" chairs.
Originally the store did not have blenders. A few months ago blenders were added to the store, and with the addition of blenders, Frappuccinos are now available.  (Vivannos are still not an option).
Grilled sandwiches are now available.
The store now carries both Starbucks ice cream and Bluebird ice cream.
The store offers a small selection of salads.
The store front signage could use a little improvement:  The signage showing that you're at a coffee house is not eye-level are exceeding obvious.  People mentally will gravitate to an awning looking for a business name.  I have hung out at this store enough to see that people walk by, stop right at the entrance of the door, peer in, puzzled look on their faces, and keep walking.  I think that there is still some fascination about whether this is a "sleuth Starbucks" but even more so, the big sign that says 15th Avenue Coffee (on the pole outside the store) is positioned much higher than eye-level, and somehow it's not obvious from the street-level what is happening at this store. So people stop, peer in, realize it's a coffeehouse (maybe they were looking for something else) and keep walking.  It would be such an easy fix to simply paint (in white letters) "15th Avenue Coffee and Tea" on the brown awning.  On a hot day, the door to the store is propped open, making it difficult to see the business name on the door.
Don't forget, customers can pay with their registered Starbucks card here and earn "stars"!
Last but not least, don't forget that if you use twitter you should be following 15th Ave. Coffee at @15thAveCoffee.
Here are some photos from today's visit to 15th Avenue Coffee and Tea:
(Edit: 7-21-10 – Wow this blog is TERRIBLE when it comes to typos. Sorry. You can tell I wrote it at like 10 pm. I am working on correcting the horrible writing in this blog post. Sorry.)
Related posts