Tea that's not afraid to mingle…at Starbucks
Melody, June 1, 2010
14
3 min

read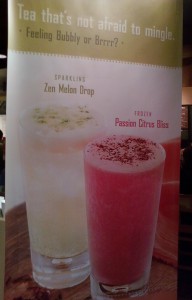 I'll be honest, I struggled to write this blog post. My problem mostly is that I don't have precise information about Tea That's Not Afraid To Mingle at your local Starbucks.  A few years ago, there was a very small test of a couple of unique tea beverages.  My faded memory suggests to me that it was four drinks (I could be wrong).  Two drinks were called the Zen Mango Sunrise and Zen Melon Drop .  Another was the Passion Citrus Bliss.  I'm not even sure the names of the others.  These test-Teas fell into two categories of beverages: One was blended, and the other was not.  The versions of the tea drinks that were NOT blended were all created with sparkling carbonated water, and to me seemed to be Zen Tea meets soda water with a few other things mixed in.  The marketing signage described these teas as "bubbly or brrrr" and that is indeed what these were: If you ordered the versions with sparkling water, you got the "bubbly" teas, and if you got the versions blended, it was "brrrr".  Of course, all the teas were produced by Tazo Tea Company.
By the way, in a previous blog post I wrote a little bit about the Tazo Tea headquarters and introduced my readers to the "Tazo Tea Stone" – Here's the link to that blog, should you want to revisit it:
A blog for the tea drinkers at Starbucks: Take a tour of Tazo
The thing that makes me crazy is that one of the teas in this test run used cranberry juice in the recipe, and I don't remember what that one was called.
As I recall, the frozen Passion Citrus Bliss was a rebranded blended Passion Tea Lemonade, with some special passion powder on top.  I remember that the red powder on top was very cool but don't even know exactly what it was.
The sparkling Zen Melon Drop was Tazo Zen Tea, sparkling water, and a splash of a melon juice, shaken, with matcha powder on top.
The frozen Zen Mango Sunrise was blended Tazo Zen Tea with a mango juice, and with a candied papaya topping.  (By the way, I think Starbucks is the master of figuring out really cool toppings to go on top of drinks.  One could do an entire blog entry just on that. Case in point, the candied caramel brulee topping last December was fabulous).
There was one more sparkling drink, and the name totally escapes me what it was called.  The last sparkling drink included Passion Tea, with sparkling water, cranberry juice, and had also a sprinkled topping.  I wish I could remember the name of this drink because I can remember clearly thinking that oddly bubbly water, cranberry juice, and passion tea were a great combination.
These were delicious drinks.  I can see why they weren't launched though. Expensive ingredients, and carbonated water is a difficult thing to merchandise.  You have to figure out whether you're going to have big CO2 tanks, or alternatively keep a supply of big 2-liter bottles of bubbly water, but then you risk wasting quite a bit if it goes flat on you.
This was a very small test run, so it is unlikely that many of my readers had the chance to try this. Nonetheless, this blog gives you ideas of things you can do with your Zen and Passion Tea!  Also, notice in one of the photos attached you can see a pitcher of tea with fresh cut lemons in it.  This store tested freshly-cut real lemon for tea in the stores at the same as running the test for the "bubbly" and "brrrr" tea beverages.
Related posts