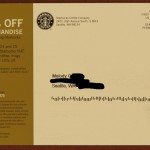 Top ten reasons to join My Starbucks Rewards:
10.  You go to Starbucks more than twice a month.
9.   You have a favorite Starbucks card that you use already.
8.   You have already over-shared so much with your barista that you might as well hand them a shiny gold card with a first AND last name on it.  Exchanging phone numbers is not far away.
7.  You like free soy milk or free breve.  You like free coffee refills when you're there to stay in the store.  You like free syrups (except that dark cherry does not count, and "mocha sauce" is not a syrup).
6.  You like a free tall ANY beverage with a purchase of one pound of beans.
5.  You like free beverage coupons.  Okay, you like the word "free".
4.  You bought your house or condo because of its close proximity to a Starbucks.
3.  Saving money is cool.
2.  You love random coupons like the one displayed here!
1.  You feel like a rock star when you pay with your Starbucks card!
Top ten reasons NOT to be a part of My Starbucks Rewards:
10.  You lose coupons.
9.   You have never heard of "Starbucks".
8.   You don't want to displace your precious "Dress Barn" store card in your wallet with a cool Starbucks card.
7.  You're absurdly paranoid about anyone ever finding out your true identity, including last name.
6.  You don't use the internet (though you can call Customer Service and register a card that way).
5.  You don't have $5 to load onto a Starbucks card.  (I'm sorry if this is true, but if your budget is too tight, maybe Starbucks isn't for you.)
4.  You're holding out until your local Starbucks serves Bud Light so you can earn "stars" for a Budweiser beer.
3.  You would rather be at a library.
2.  You are independently wealthy and have no interest in saving money!
1.  It's your childhood trauma: In kindergarten you never earned any gold stars, and you're still trying to get over this!
*************
On a serious note, I love these kinds of coupons. Who doesn't like getting real discount coupons in the mail?  The recipe to be a part of My Starbucks Rewards is simple: Get a Starbucks Card.  Register it here.  Load some money onto it (this can be done online, or in store for as little as $5.00 increments).  Use your card to pay for your Starbucks purchases. One swipe of the card equals one star.
My Starbucks Reward is basically set up with increasing benefits for your continued use of the card.  When you first register your card, you are at the "Welcome" level of the rewards program. This means you will receive a coupon on or about your birthday for a free birthday beverage.  After five swipes of your card you then go to the next level which is the "green" level of the card.  At the "green" level, you receive free syrups, free milk changes, and a tall beverage when you are buying one pound of coffee.  Be sure to look at this blog post here for common pitfalls and areas of confusion for My Starbucks Rewards:
Four common pitfalls of My Starbucks Rewards
After 30 swipes of the card, you reach the "gold" level which means that you will receive in the mail a personalized card with your name on it – you do NOT have to switch to this card to get your perks!  Once at the "gold" level, you earn a free drink coupon for every 15 swipes of the card.
Remember you get one "star" per swipe.  It is NOT one "star" per item or drink, it is one star per swipe. So if you are buying three drinks, or three pounds of coffee, or a drink and some Via Ready Brew, be sure to ask your local barista to split up the transactions so that you can earn more stars.
Is everyone else looking forward to their "wee shopping spree" in July with 15% off merchandise? I assume that lots of gold card level rewards participants received this card. What are you going to buy with your 15%?
If you have questions about My Starbucks Rewards you can send an email to Rewards@Starbucks.com or follow the Starbucks Card on twitter at the profile @StarbucksCard.
EDIT:  Oops! Fairly important detail! I forgot to mention that the rewards program where you earn "stars" is a U.S. program only.
Related posts