Starbucks around the globe continues: Sloterdijk Amsterdam
Melody, August 20, 2010
22
3 min

read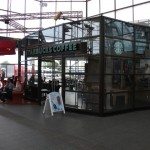 Our Starbucks journey around the globe continues: Next stop, Amersterdam. This Starbucks is in the Sloterdijk train station in Amsterdam, and is the most recent to be opened in the Netherlands.  It was opened July 2, 2010.
Here's an odd piece of trivia: In the Netherlands, every single Starbucks is located in a train station or at the airport.  Others might not recall this, but when MyStarbucksIdea was new, it was common to have new participants come to the site crying out for Starbucks to expand in the Netherlands. Here's an example of what I mean: Starbucks in The Netherlands.  The small number of stores in the country simply didn't satisfy the Dutch appetite for Starbucks.  In 2002, Starbucks opened a very small roasting plant in Holland, and my understanding is that that site has (or had) a very small store but not totally accessible to the general public.  The demand for Starbucks in the Netherlands was so great that MyStarbucksIdea announced the opening of an August 2009 store here:
New Starbucks Location – Utrecht Centraal Station, Netherlands
For my readers who speak a little Dutch, there is a Starbucks Netherlands facebook page here.  There is even a recent wall posting about House Blend coffee, and the Starbucks Netherlands page suggests that you try this coffee with a delicious piece of appletart! (("Probeer de koffie eens met een lekker stuk appeltaart.") (Or at least I'm totally guessing that's what it says. I didn't really bother to translate it.  It just looks like it says that. "Probieren" is the german word for "try" and "met" is probably "with", and in German that's "mit".  In German "lecker" means "delicious" and the German word for piece is "Stück")).
My understanding is that there are currently 8 Starbucks in the Netherlands.  I owe a big thank you to Sebastian who recently took a summer trip to Holland, and emailed me these photos with express permission to use them in the blog.  From what I hear, the Starbucks in the Netherlands offer a large variety of food offerings including a BLT, tuna sandwich, a Turkish Falafel sandwich, and a variety of yogurts, pastries, and usually apple pie too.  Sebastian reports that he met friendly and nice baristas and great experiences in the Netherlands!
This featured Starbucks in Sloterdijk represents continued expansion of the reclaimed wood/repurposed wood, "Shared Planet" style of store, and I hear that all of these stores have signage on the wall talking about Shared Planet as well as Fair Trade.
For my readers who enjoy a trip around the world with this blog, you can click on this link here for more blog articles about Starbucks' international markets:
Starbucks International Markets
A few days ago we were visiting Sacramento on this blog, and now we are in Amsterdam! If you've never seen this blog post, I recommend you visit my entry on the first Starbucks which is located at 1912 Pike Place in Seattle.  One of the odd things that occurs to me when looking at these photos is that it feels like one could travel half way around the world and finally arrive at a place where suddenly it feels like he or she is right at home in Seattle.  If I walked into this store today, I'd have this disoriented feeling of being home … in Seattle, not Amsterdam.
Enjoy!
Related posts