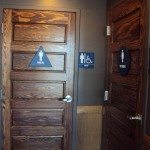 On my journey to explore Starbucks in Gold River, California, I stumbled upon a fabulous store located at 1401 Alhambra (Alhambra and "N" – Store #619) in Sacramento.
This store has one of the larger patio spaces I've ever seen!   By the way, notice the beautiful blue skies.  The weather here is amazing.  Though if I had too many days of this warm sunny weather, I would soon miss 55 degrees.
I have to thank Julie at the Starbucks on Sunrise Drive who tipped me off to this great store. She is a black apron, nearly 10-year partner, who knows coffee.  Gold Coast Blend is one of her very favorites.  I went into her store becuase it's not too far from the hotel where I was staying, and I mentioned that I was in the area to visit a Clover Starbucks in Gold River.  Julie said, "Have you seen the Alhambra Starbucks in Sacramento? It just got it's 15 year remodel, and it's beautiful and it _just_ got a Clover."  Julie left a great first impression.  I didn't stay in her store for more than a few minutes, so I'm not writing a blog post on store #6663 but I think it deserves a shout out.
That was enough of a tip off that soon I was on my way to the Sacramento store on Alhambra.  I used the store locator, found it, and soon was there.  It is a beautifully designed wood with re-purposed wood themes through out.  There is a big exterior sign boasting the Clover.
One more thing that is interesting about this store: They sell a chocolate croissant.  I looked at that single croissant sitting in the pastry case thinking, 'how odd. I don't think we have that in Seattle.'
I ordered Sumatra from the Clover, grabbed a little Horizon Vanilla Milk, and ordered the chocolate croissant.  The store stayed fairly busy with a steady flow of people coming and going from it.  I really liked the chocolate croissant! I wouldn't mind if those were to come to Seattle.
The store was a little messy when  I first arrived, but in the fifteen minutes that I sat in the lobby, an enthusiastic partner named Brian came out and did a lobby slide.  Pretty soon the traces of spilled sugar from doctoring up coffee were all gone.  The store IS beautiful and so I freely took a number of photos.  I want to point out the bathroom doors in this store: This might be the first time I have ever featured bathroom doors, but these doors look stunning to me.
While I was there, I was the only person (that I know of) that I heard ordering a Clover.  Of course since the Clover really is totally new to their store, they have to go through that process of educating their customers about what is special about it, and the experience of "small batch" coffees by Starbucks.  The register barista who helped me was definitely excited to have the Clover! (Her name is 'Michael').
The trip to Sacramento during this weekend trip (July 31 and August 1, 2010) produced three episodes – Here's the complete list of the store reviews in or near Sacramento, California:
Enjoy! Don't forget, if you like Starbucks store reviews, or want to see other stores that I've talked about, click on this link here:
Here are the pics from the Starbucks at 1401 Alhambra, in Sacramento, California – It always fun to take a virtual tour of other stores:
Related posts