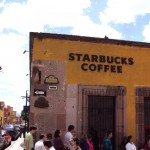 A reader in Mexico sent me some photos of his favorite Starbucks.  This Starbucks is in the town of San Miguel de Allende, which is a tourist destination in the eastern part of Guanajuato.  These are stunning photos.  This Starbucks is in a very old historic building, and the store design team preserved as much as possible of the welcoming cozy feeling of the house.  It has a patio seating area with a fountain in the center of it!  I tried to determine when this Starbucks first opened and I found an old Seattle Times article dating from July 2008 mentioning it as "just opened".  Starbucks has operated in Mexico since 2002.
This is not the first time that this blog has found its way to Mexico.  A friend took a vacation to Mexico (about 2 years ago now) and she brought back this menu:
Starbucks around the globe: Episode #2 – Mexico
In addition, the week of September 15, Mexico celebrates 200 years of independence from Spain, and coinciding with that, Starbucks will be promoting special merchandise in stores.  The merchandise includes a Starbucks Bearista Bear with "Mexico" on his shirt, a CD of traditional Mexican music with some jazz influence, and there will be two city mugs:  One is a city mug for Mexico City, and the other is a country mug.  The whole bean coffee offering "Mexico" will also be promoted.  That whole bean coffee offering is part of the international series of coffees.  Starbucks often produces a limited whole bean coffee just for one specific international market.  There is more information about the "international" series of coffee offerings here:
Also in January of this year I came upon one bag of the Mexico Blend coffee and I mentioned it here:
But without further delay, here are the beautiful photos that go with this blog post:
Related posts
Socialize

Subscribe
Join the StarbucksMelody.com mailing list to receive a weekly email with new posts.