St. Martin's Lane Starbucks gets a Simonelli (and Clover)
Melody, May 14, 2013
7
2 min

read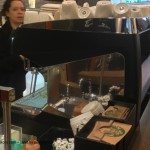 A handful of Starbucks stores are using a Nuova Simonelli espresso machine.  In Seattle, the Starbucks at 328 – 15th Avenue has a Simonelli, as well as the Wedgewood neighborhood Starbucks.  Roy Street Coffee and Tea (fully operated by Starbucks) has a Simonelli.  In this  previous blog article, I mentioned that a couple of stores use a Simonelli espresso machine.
I would like Starbucks to put more Simonelli machines in their stores.  It creates a beautiful shot of espresso.  A reader sent me photos of the  St. Martin's Lane Starbucks in London which also uses a Simonelli espresso machine.  Using the store locator,  I am nearly sure it's this store:
99 St Martins Lane
London
GB-ENG
WC2N 4AS
United Kingdom
02072405789
Their espresso machine is a thing of beauty.  And at the St. Martin's Lane Starbucks, they offer three different espresso choices:  A customer can get traditional Espresso Roast, Guatemala Antigua, or lastly, a Reserve offering.  Beans are always ground on demand.  I think this is pretty cool!
Take a look:
I am still looking for more information on what Starbucks is doing with their test of the Simonelli manual machines – please email me if you know of more stores that no longer use a Mastrena, and have one of these special espresso machines.
If anyone wants to email me photos of the Starbucks in Chicago that has a Simonelli, that would be great.  (It's the Oak and Rush store.  I know there are Instagram photos of that store but I don't use pictures from any social media source for this blog.)
While I enjoy the espresso beverages at Starbucks, I think that having more stores with these machines would definitely elevate the espresso beverage experience to a new high.  What do you think?  Would you care if your Starbucks switched to a Simonelli?
Related posts