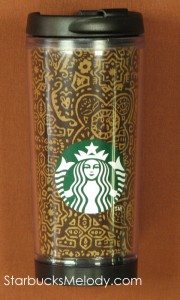 I got this beautiful 8-ounce tumbler in the mail.  It made my day.  This traditional Indonesian pattern Starbucks tumbler is current merchandise in the Starbucks Indonesia market.  I love that it is an 8-ounce size too!  I love the smaller tumblers.  And this brown pattern design is so pretty.  And of course, I love seeing the new logo on it too.  So in case others were curious about international merchandise, I'm showing it off here too.
The second something "pretty and small" is a pair of earrings.  The earrings were a gift from Licia Beads.  They are beads that are meant to look like coffee beans.  I like these.  It would be great to have a  necklace that was a simple strand of pretty brown coffee beans beads.  Licia produces handmade jewelry for her Etsy website, and the coffee bean earrings also come in a reddish-toned color too.
This blog post is just a big thank you to Romie and Licia for the gifts!  Thank you so much!
Here are the photos of the other side of the tumbler, and the earrings too:
***
Edit on July 23, 2011: In the comments, I was reminded of my previous earrings articles.  I wrote about Via earrings in 2009 and early 2010:
Related posts