Starbucks Sakura 2011 merchandise in Japan
Melody, February 15, 2011
33
2 min

read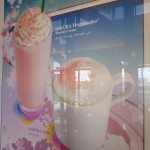 Starbucks in Japan just released their Sakura 2011 merchandise.  I know I said that there would be no new blog posts for one week, but I couldn't pass this up.  It's beautiful cherry blossom-designed merchandise which includes a tumbler, mugs, a bearista bear, a Sakura flavor for a latte and the  Frappuccino, and a special Sakura Starbucks card also.  Noboru Sakamoto (who emailed me the photos) was nearly insistent that I share these lovely photos here on StarbucksMelody.com.  I can't resist.
The Sakura flavor has its hard-core fans, and some of them want to see it come to the United States market.  I enjoyed having cherry available, which was recently a seasonal offering, so I might enjoy Sakura too.  Once in a while threads appear on MyStarbucksIdea.com suggesting that the Sakura flavor come to the United States.  However, having never tried the Sakura flavor, I can't really weigh in on this idea.
Last year I briefly talked about the 2010 Sakura merchandise, though the photos are of a poor quality:
Cherry Blossom Tumbler 2010 – Japan
Just as an aside, I think it's interesting that the Starbucks Japan website is already showing off a photo of the Tribute Blend Whole Bean coffee, and the Tribute Blend Via Ready Brew:
This merchandise is really beautiful, and I love the idea of a matching card and tumbler.  We had the same kind of idea happening in the US market with the Adler mugs and cards.
Thank you Noboru Sakamato for taking these great pictures! Recently Noboru has launched his own Starbucks blog – Click here if you'd like to visit it.
And last but not least, I've "borrowed" this photo from the Starbucks Japan website: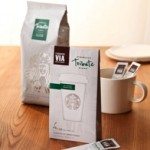 Okay, now I'm really taking a one week break from posting.  I will see you all the 22nd.  I definitely need the break, but when I got the email from Noboru with all these photos, I simply didn't want to wait to post them.  Enjoy and chat amongst yourselves. 😉
Related posts