Cute Concept Starbucks Drive Thrus: Westminster, California
Melody, January 28, 2015
9
3 min

read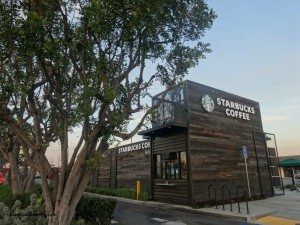 Last July, I mentioned that Starbucks operates a small number of concept drive-thru stores. They are either designed with shipping containers or with pre-fab construction. Out of the thousands and thousands of Starbucks in the United States and Canada, less than twenty-five are built with these unique drive-thru designs.
This article features the Westminster, California concept store from the list below, which is sixth from the bottom. You'll find it at 15388 Goldenwest Street, in Westminster, California, and the store number is 19353. I had a great visit on January 18th. Got a delicious flat white and took all of the photos featured here. If you've been to this store, I'd love to know what you think!
I published a list of them in that first article from July 2014, and here the list is again, with a few more stores added to it.
S. Parker Road and East Quincy Avenue – Aurora, Colorado – Prefab construction Starbucks, opened September 26, 2014.
Highway 4 and Highway 160, Oakley, California – Prefab construction Starbucks, opened September 25, 2014.
Overland Park, 75th & I35 – Overland Park, Kansas (Opened August 7, 2014) – A shipping container Starbucks.
Chapel Hills Mall – Colorado Springs, Colorado – A shipping container Starbucks
Hwy 211 & Hwy 99E – Woodburn, Oregon – Prefab construction design Starbucks. (Opened June 16, 2014)
60th & Columbia – Portland, Oregon – Prefab construction (Opened May 28, 2014)
104th Ave SE & 240th ST – Kent, Washington – Prefab construction, and is designated a "micro" store. (Opened May 25, 2014)
W E ST & N Ceneter ST – Casper, Wyoming – Prefab construction
NW 53rd & 15th Ave NW – Seattle (Ballard neighborhood), Washington – A shipping container Starbucks
23rd & Union – Tacoma, Washington – Prefab construction (Opened January 6, 2014 – Store is mentioned in the middle of the linked article).
167th ST & NE 2nd Ave – Miami, Florida – Prefab construction
288th & Pac Hwy – Federal Way, Washington – Prefab construction
Broadway & Devon – Chicago, Illinois – A shipping container Starbucks (Opened October 13, 2013)
London Bridge – Virginia Beach, Virginia – Prefab construction
122nd & Halsey – Portland, Oregon – A shipping container Starbucks (Opened September 18, 2013)
Goldenwest & McFadden – Westminster, California – Prefab construction
3300 S&W Temple – Salt Lake City, Utah – A shipping container Starbucks, also designated a "micro" Starbucks.
Pleasant Hills & Forest Grove – Roseville, California – Prefab construction, also designated a "micro" Starbucks.
Powers Ferry & Terry Mill – Marietta, Georgia – Prefab construction
104th & Bannock – Northglenn, Colorado – A shipping container Starbucks
Reclamation Concept – Tukwila, Washington – A shipping container (and this was the first of its kind – the first of all these stores). (Opened December 13, 2011)
Related posts