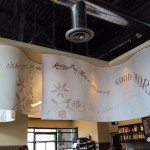 I've been asked to feature more Starbucks stores, and so for this blog post I carefully selected a Starbucks in Seattle to write about.  I picked the "4th and Diagonal" Starbucks in the "Sodo" neighborhood of Seattle because it features a unique history and legacy despite that it has only been open for a few years.
The address to the 4th and Diagonal store is as follows:
4th and Diagonal (store #14247)

4115 Fourth Avenue South
Seattle, WA 98134
(206) 381-1553
The 4th and Diagonal store is located in an industrial area of Seattle, and almost sits on the edge of the "Sodo" and the "Georgetown" neighborhoods.  Both neighborhoods have historic roots in manufacturing and industry.  Not far away is the old Rainier Brewery building (no longer a functioning brewery).  The commute to Boeing, when its main operations were in Seattle, was not far from the Georgetown neighborhood.  From the photos included below, it's easy to see that the 4th and Diagonal store even looks like it's in an industrial neighborhood.
I picked this store to write about because of its unique store design, and perhaps the most unusual drive-thru I've ever seen.  Most Starbucks in Seattle do not even have drive-thrus.  This store has a very long drive-thru that goes on and on and on complete with large scale signage of coffee farmers, and beautiful Starbucks barista-themed signs.  I walked through the drive-thru and took some photos.  There is something about this drive-thru that to me feels a bit like a Disneyland ride.  The funny thing is, every time I've been to this store, I never see a line up of cars in the drive-thru.  I have never figured out when this store has its "rush" of customers.
I pretty much only visit this store on weekends since it really isn't too close to either work or home.  In fact, on the weekends once in a while I will go into my office and catch up on work.  I will drop by this Starbucks for some coffee and food to take into work, despite that it is a little bit out of the way for a Starbucks run (it's a couple of miles from work).  It's much faster for me to stop at the Starbucks at First and Walker because it's probably one mile closer, and has its own convenient parking lot (unlike most stores in the downtown core of Seattle).
When Fourth and Diagonal was brand new, it was in fact planned as a very early prototype of what is now known as the "concept stores" such as First and Pike, University Village, and 15th Avenue Coffee and Tea.  The design at Fourth and Diagonal broke away from all of the typical 1990s era stores.  It was one of the first stores to get a big community table with wood reclaimed from a fallen tree.  This store was one of the very first to ever see a double-sided round center condiment area.  This store got wall art that thematically worked in harmony with its neighborhood.  One of the photos on the wall is of an old brick building and one can see the street sign "Airport Way" in the photo.  That street, "Airport Way," isn't too far from the store, and classic brick masonry building on the wall fits much of the architecture of the Georgetown neighborhood of Seattle, which is relatively close to this store.
Fourth and Diagonal opened June of 2008 (I think) but its impact continues.  Sometimes when I see newer store remodels that are now in the style of a "repurposed" look, I see hints of this store's influence in the new designs.  For example, when Starbucks remodeled the Pier 55 store in Seattle, it used reclaimed logs from the Seattle piers, following in the footsteps of the reclaimed wood look of Fourth and Diagonal.
There is no argument that store design has grown, flourished, and developed over time, but this store stands as perhaps the earliest experiment and prototype of what later became the major design template for new store openings or older stores getting remodeled.  Since this store IS a prototype store, some design aspects appear to be one-time unique designs.  I hope that this store doesn't get remodeled again for a long time to come. It's beautiful just as it is.
Related posts