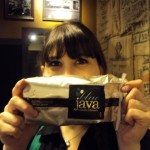 For a limited time, you can get Organic Blue Java coffee at your local Starbucks store (assuming your local Starbucks offers the Reserve line of coffees).  This coffee is amazing.  I've been meaning to write about it for a while, and decided that I better get a blog post up now before it is all gone!
This coffee comes from Indonesia.  Starbucks classifies this as a "washed coffee" but the processing method also has some similarity to Sumatra which is "wet hulled."  The coffee cherries are partially dried on tarps, and when the coffee still contains about 35% moisture-level, the coffee is "wet hulled" – the coffee bean is removed from its parchment or shell.  This coffee is grown at elevations starting at about 2,900 feet and up to about 5,200 feet.  About 300 small-holder farms provided the beans for this special Reserve offering. 
Starbucks suggests pairing this coffee with chocolate, mushrooms, and herb flavors.  I talked with one coffee master who told me he tried Blue Java paired with Beecher's Marco Polo Cheese, and he said that was a great pairing.  It brought out the sweetness to the coffee. 
There is more information about this coffee in the MyStarbucksIdea.com blogs:
This morning (January 19, 2011), I got up early and dropped by 1912 Pike Place right around 7:00 a.m.  My plan was simply to buy a bag of Blue Java, ask a partner to make a press, take some photos, write a blog post.  I got to my local store (1912 Pike Place) and discovered that they were totally sold out.  A partner (Chris), who has seen me in this store many times, offered to call the 1st and Pike Starbucks to see if they still had some Blue Java.  Sure enough, they did.
I walked up to 1st and Pike Starbucks, and I was immediately greeted by name by the register partner.  For the life of me, I don't remember her name. I'm terrible with names.  I ordered my press of coffee, buying one bag of Blue Java.  (This coffee retails for $15.00 per half pound).  Another partner, Emily, offered to make the press and used it as an opportunity to show a third, and brand new partner, how to make a French press of coffee.  Emily knows me well, and has been a part of 1st and Pike since the day that store opened new on March 13, 2009.  Thankfully I arrived early enough that the store was still quite slow (this store has more of an afternoon crowd than morning crowd, I think.)
We shared a little coffee together quickly, paired the Blue Java with a donut, and worked on our coffee passports.  One thing about this quick coffee tasting is that it reminds me how fast a little coffee education can happen.  This was like a power coffee tasting.  I had to get to work, and Emily didn't have much time away from being behind the bar.  She quickly got a French press together, and I plunged it when the beeper went off.  To be honest, I had suggested something savory, but then in the interests of just being fast, we grabbed a donut from the pastry case.  We went through all the steps of a coffee tasting:  We smelled the coffee, described it, tasted it, and we both made notes in our coffee passports.  We literally did between a five to ten-minute coffee tasting!   Blue Java smelled very fresh to me, though it's hard to describe "fresh" as a scent.  Herbs can be very "fresh" and that's what Emily and I both got out of it.  Emily said it tasted "like a chicken dinner."  We both noticed a lot of flavor on the back of our tongue.  That seems like an odd thing to say, because sometimes coffees that have a lot of flavor in the back of the mouth are known to be  bitter.  This was not a bitter coffee though.  To me, it seemed to have a heavy body but a pretty clean finish.  When paired with the donut, the strong flavor of the coffee seemed to "melt" the donut. 
Those are our notes from a power French press.  It doesn't have to take a lot of time to put together a French press, and have a little coffee education. 
If you like reading about whole bean coffee, I recommend that you read these blog posts:
Here are the photos from my French press with barista Emily:
Related posts