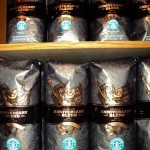 Anniversary Blend is back, now in a sexy deep and rich brown shiny package.  It's an annual seasonal coffee each Fall, celebrating Starbucks' anniversary.  This coffee was first launched in 1996 to mark the 25th Anniversary of Starbucks, and the story goes that it was intended to be a one time coffee, but was so popular that it has returned every year thereafter.  Anniversary Blend arrives each Fall, but technically, as I understand it, Starbucks first opened their doors in March of 1971.  Such is life.  Fall is a better season for an Anniversary! Anniversary Blend is a blend of washed, semi-washed, and aged coffees from the Asia/Pacific growing region.  This combination of processing methods helps to give Anniversary Blend a rich and varied flavor profile.   Previously I wrote a blog post which explained a little bit about what an "aged" coffee bean is, and I still highly recommend visiting this old, but still solid, blog post:
The Magic of Starbucks Aged Sumatra Whole Bean Coffee
Anniversary Blend a very bold coffee, and this year's coffee has a lot of the quintessential spicy and syrupy notes that it is known for.  The aged coffee beans provide a heavier body to the coffee.  Complementary flavors to the coffee are maple, oats, cinnamon, and butter.
I went to two of my favorite baristas and asked for their help to learn about pairings with this coffee and to arrange a little tasting of it at their store.  Baristas Jeremy and Heidi, who have been featured twice before in this blog, put together a small coffee tasting event today at their store (Starbucks at First and Pike, "Heritage" store) and I snapped a few pictures from this event, featured below.  By the way, this store tends to be busy all the time.  It is located just outside of Pike Place Market and has incredibly heavy store traffic of tourists who wander in, either on their way in or out of the Pike Place Market.
I've known a few coffee purists who believe that the only way to taste coffee is for the coffee to be consumed by itself, not with food.  I am NOT such a purist.  The average Starbucks customer will likely be consuming something with their coffee, whether it is their breakfast or a dessert at dinner, or a mid-day snack.  I think it's important to learn about the coffee from the perspective of both educating the palate about its flavors, as well as educating customers about how to decide what kind of coffee might go with a variety of foods.
Today, coffee masters Jeremy and Heidi paired a zucchini bread, peppered cheese, and candied ginger with a French press of Anniversary Blend.  In my humble opinion, the zucchini bread was by far the most delightful pairing.  The bread had been made with a lot of cinnamon in the recipe, and the strong flavor of cinnamon complemented the spiciness of Anniversary Blend.  One lesson in today's food pairing, and something I hadn't thought too much about before, is that even the texture of the food can affect the flavor of the coffee.  The cheese with black pepper crust had a strong pepper flavor but the cheese itself was a moist, sticky texture.  It tended to coat the palate a little bit, and masked some of the flavors of the Anniversary Blend, in my opinion.  I actually liked this pairing quite a bit.  This coffee is so bold that its strong flavor still comes through, but with a nice creamy type cheese, the coffee actually seemed very smoothed out to me, and a bit milder.  I don't have much to say about the candied ginger pairing.  I'm not a big fan of ginger.
Jeremy's comment as to the peppery cheese pairing was that the cheese itself helped pick out the sweeter, herbal notes of the coffee, almost giving the coffee a slightly grassy flavor.  There were three customers that stood there for the entire duration of the tasting (given that this is often about a fifteen to twenty minute commitment of time, I'm impressed at how often customers will join and really experience the whole tasting).  One customer was a tourist from Texas, and she said it was her first coffee tasting, and seemed to be delighted at the experience.  Heidi somewhat felt that the ginger paired with the coffee was overpowering.  The ginger flavor completely dominated.  In general, if baristas are looking for creative ideas about food pairings, my two cents is to stay away from ginger.  Lesson learned.
If you want to read about other coffee tasting events hosted by coffee masters Jeremy and Heidi, take a look at these previous blog posts:
Three Region Blend Coffee Tasting
So what do you think of this year's Anniversary Blend, and what do you think of the packaging?
Related posts