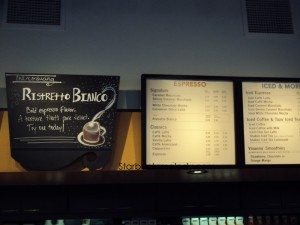 Starbucks is experimenting with a new espresso bar beverage called the "Ristretto Bianco."  I had heard gossip that it was being tested in Portland, Oregon, Lexington, Kentucky, and somewhere in Ohio. I decided I was going to find it and give it a try, and so I got in my car, driving southbound on a gray Saturday, and ended up in Portland. It was nearly random, but I found a Starbucks on the corner of SW 6th and SW Salmon.
Sydney, who describes her store as "cohesive and dedicated," made my drink.  I have to admit, I don't usually drink latte type beverages.  Most of my usual beverages don't include an espresso shot of coffee as an ingredient.  This was very good, and I would get it again.  It was sweeter than a typical latte with much more pronounced coffee flavor.  However it felt filling, and I almost think that next time I would order a short size (8 ounces).  I could barely finish my tall Ristretto Bianco which paired nicely with the vanilla bean cupcake.  I ended up with more than one tall Ristretto Biancos because I told Sydney I was writing an article about the beverage and so I ended up getting a second one which had a better look to it, according to her.  Since I wasn't sure exactly what the Ristretto Bianco was supposed to look like, it looked just fine to me.
Notice that the menu board (if you can tell in the photo below) shows two prices for this beverage: it lists a "short" and a "tall" size.  It is interesting that there is no advertised pricing for a Grande or a Venti.  The default milk for this beverage is whole milk, and the standard beverage comes with a lot of shots.  A tall has three shots, a Grande has four shots, and a Venti has five shots.  However please do not hold me to that listing of number of shots per drink!  I have heard gossip that is the number of shots per size, but that sounds like an incredible number of shots!  And I have not really confirmed that information.
Here's the store's contact information:
Starbucks – Store #474
1009 SW 6th Avenue
Portland, Oregon 97204
(503) 241 7408
By the way, I recognize that Portland has a number of Starbucks but as luck would have it, this Starbucks on SW 6th Avenue was the first one I found.  I didn't have time to go visit more stores because I had to drive back to Seattle, but that could be for another blog article!
Kudos to Sydney for being so welcoming.  Many readers of this blog are familiar with my occasional hassles of Starbucks stores where baristas run out from behind the counter and start yelling, "hey you can't take photos in here!"   This store simply was not like that.  Clearly, they are up to date on the latest policies because the sight of my camera didn't disturb anyone at all.  In 2009, Starbucks revised their store photography policy to allow customers to take in-store photos for non-professional use.  Here is my previous blog article on that topic:
Time to clear up confusion around the Starbucks photo policy
If you like to read about things that Starbucks tests, here are a few more blog articles about "test" products and beverages.  Keep in mind, most things that get tested never launch nationally.  But they're still fun to read about!
So the real question is, 'will this work?'  Essentially this is a much more authentic latte than the typical overly sweet milk and sugar beverage that is often sold at Starbucks.  A part of me doubts this is such a great idea.  From what I can see, Starbucks thrives on telling customers they can have their beverage anyway they like.  Starbucks customers are not latte purists.  I can see that there will be some customers who say, "I'd like a Grande Ristretto Bianco with soy milk, with white mocha and raspberry and extra hot."  It seems like that order is basically a Soy Raspberry White Mocha made with extra shots (which are Ristretto shots), but in the end that drink would bear little resemblance to the drink I tried today.  I feel like I'm missing something here!  I want to make it clear that I like the new beverage, but the Starbucks way of doing business involves customers modifying drinks in every way imaginable.
Has anyone here tried this?  What do you think?
Related posts