Could Teavana Replace Tazo Tea Inside Starbucks Stores?
Melody, September 13, 2013
133
3 min

read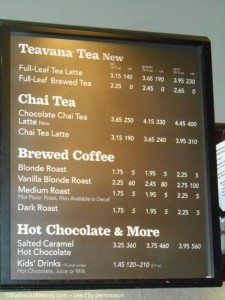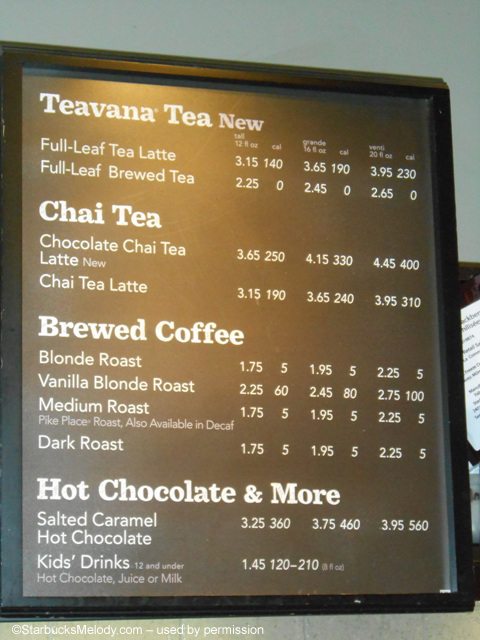 Do you think Teavana could replace the Tazo Tea offerings inside the Starbucks retail stores?
Last December, Starbucks purchased Teavana, making it a wholly-owned and operated subsidiary, along side Evolution Fresh, La Boulange, Seattle's Best Coffee, and Tazo.  Since that time, (in April this year) Starbucks has introduced a Teavana-branded Starbucks card, and added My Starbucks Rewards stars for purchases made inside Teavana stores.  On July 25, 2013, Howard Schultz was quoted as saying, "Over time, many unique hand-crafted Teavana tea beverages will also find their way into Starbucks stores."
So it is no surprise to hear that Starbucks has already begun testing in a small number of Atlanta Starbucks locations. Those stores now offer Teavana tea beverages, having launched Teavana in stores with the fall launch beginning on September 4, 2013, and removing Tazo tea from the retail wall.
In the Starbucks stores testing Teavana, hot tea options now include English Breakfast, Earl Grey Creme, Emperor's Clounds, Jade Citrus Mint,  Youthberry, Maharaj Chai Oolong, Passion Berry, and Pineapple Kona Pop.  I'm familiar with some of those teas as I have made them at home.  The Jade Citrus Mint reminds me of the Tazo Mintly Citrus which used to be available at the now-closed Tazo Tea store.  Pineapple Kona Pop makes for an amazing iced tea, and I have made it at home many times.  I last mentioned Pineapple Kona Pop in this article here.  All of the teas are individually packaged.
The retail wall also has loose leaf Teavana tea available for purchase: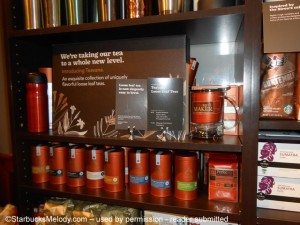 Also, I have heard that the stores offering Teavana teas have the Teavana German Rock Sugar available if you should want to sweeten your tea with it.
What do you think?  Your turn to weigh in.  There are aspects of this that are wonderful.  Having tried a number of Teavana teas, I know they're great – and a number of the tea blends work wonderfully iced.  I am sentimental about Tazo though.  Somehow, I would be a little sad to see it gone from the stores, should Teavana ever launch nationwide at Starbucks stores.  It's my understanding that if you want iced tea, you still get the standard black, green, or passion iced teas, but now baristas refer to them as "Starbucks teas," rather than calling them Tazo teas.
If you like reading about the many things that Starbucks tests, you can read about more tests here.  Last but not least, I enjoy featuring reader-submitted photos, whether that is your amazing neighborhood Starbucks, a coffee event, or what have you.  I'm sorry but I don't use every photo that is sent to me, but feel free to email me at Melody at StarbucksMelody dot com, if you have a Starbucks photo that you wish to be considered for this site.  Please indicate in your email that you took the photo and that you are giving this site permission to use.  Thank you so much!
Related posts