Caesar and Cobb salads spotted in Starbucks.
Melody, January 18, 2013
22
1 min

read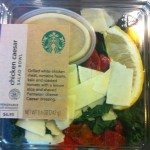 A reader recently sent me a few photos of salads available at her local Starbucks.  At  her neighborhood store, a customer can buy a Chicken Caesar Salad Bowl or a Chicken & Bacon Cobb Salad Bowl.  Both of these items are in the RTD case, near the typically-found bistro box items.
I would love to have the option of a salad!  She even said that her free food rewards having been working on the salads!
I tried to research where one can find these salad bowls.  The reader who emailed me the photos is located in Los Angeles County.  It seems as though there might be several stores in the greater L.A. area that have them.  As I researched further, I discovered that one reader had spotted them in the Olympia, Washington area, and another reader spotted these salads in a Chicago suburb.  From what I know (again, from reader input), there are a total of roughly one hundred Starbucks stores in various places in the U.S. that are testing these salads.
Starbucks has indeed offered salads  before, though it's been a number of years.  And typically, salads are considered a summer item.  It could be that Starbucks is testing to see if they'll sell well later in the year – however, I am making a very big leap there, and I don't really know.  If you like reading about test products and beverages, click through this category.
Have you seen or tried these salad bowls at your Starbucks?  Again, the two offerings are a Chicken Caesar and Chicken & Bacon Cobb.  Would you buy these?
Related posts