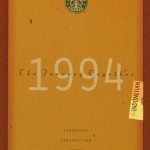 Together we are looking at the earliest beginnings of Starbucks:  I've uploaded the 1994 Annual Shareholders Report for you to enjoy.   These old annual reports document the early coffee romance and passion that Starbucks has always had, and still does have.
And just to fast forward for a moment, the 2011 Annual Meeting of Shareholders takes place on March 23, 2011, at McCaw Hall in Seattle, Washington.  I hope to see some of you there.
On June 26, 1992, a very small Seattle coffee business called Starbucks Coffee Company was born as a publicly traded corporation.  Since that date, every single year, there has been an annual report, and an annual meeting of shareholders.  Take a look at the 1994 report and you can see that like the other reports, it's infused with history, and coffee passion and romance.  Here are the two previous Starbucks reports:
I've started each of these articles about the earliest reports by featuring Howard Schultz's message to shareholders. With no further delay, here is the 1994 message from Howard:
To Our Shareholders:
Much has transpired since June of 1992 when Starbucks became the first publicly-owned specialty coffee company in North America.  With 156 store and 1,600 employees, we set out to become the leading retailer and brand of specialty coffee in North America.  We began with what was second nature to us:  an unparalleled commitment to roasting the finest coffee, hiring talented people and pursuing excellence in all aspects of our operations.
Two years later, we still have the same commitment to our values, the same passion for our product, the same dedicated employees – just more of them.  With 399 company-owned stores, 26 licensed airport stores, and 6,500 employees, we've made our dream a reality.  At the conclusion of another very successful year, we are pleased to announce that Starbucks has fulfilled its original promise of being the industry leader.  Although this is no small achievement, we are excited to realize that the majority of our challenges and accomplishments still lie before us.
With our eyes on the goal of 1,500 stores in North America by the year 2000, our partners have a renewed commitment to our vision.  We realize that it is more important now than ever to execute flawlessly, to recognize and respond to opportunities in a disciplined and strategic manner, and most of all, to exceed our customers' expectations.  In fiscal 1994, our dedicated team opened 159 new stores, surpassing our original goal of 125 stores.  By the end of the fourth quarter, our expertly-trained retail partners were serving over 2 million customers each week, and we successfully entered the new markets of New York, Boston, Minneapolis and Atlanta.  Our fiscal 1995 plans call for opening at least 200 new stores, including those just opened in the new martkets of Dallas and Houston, and those we plan to open in Philadelphia and Las Vegas in the second quarter.
In fiscal 1995 and beyond, we will continue to reinforce our brand and market leadership position, with the long-term goal of becoming the most respected and recognized brand of coffee in the world.  With fiscal 1994 net revenues of nearly $825 million, an increase of 61% over 1993, we feel fortunate to have experienced what some might call extraordinary growth and success.  We are proud to know that while many would view this as a sign that we have been doing  everything right, our partners prefer to see it as a challenge to do everything better.
We realize that our people are the cornerstone of our success, and we know that their ideas, commitment and connection to our customers are truly the essential elements in the Starbucks experience.  Therefore, we are extremely pleased that we were able to grant full and part-time partners stock options under our Bean Stock program in fiscal 1994.  Based upon the input of our partners, we also refined our nationally recognized healthcare and benefits programs to reflect the changing needs of our diverse workforce.
At this time, we are poised for many new exciting business opportunities, a position we know is made possible by the way our people have embraced our guiding principles.  Our mail order department increased their core continuity business by 170%, and our specialty sales and marketing team added ITT Sheraton Hotels and Delta Airline's Shuttle to their ever expanding list of national accounts.  We entered into a 50/50 joint venture partnership with Pepsi-Cola Company to create, bottle and distribute an innovative new beverage that we believe will potentially expand the reach of the Starbucks brand.
We continue to be strongly committed to developing our infrastructures ahead of our growth.  In August, we completed negotiation to build what we expect will be ultimately a one million square foot roasting and distribution facility in York, Pennsylvania.  We promoted two of our top executives:  Orin Smith to the position of president and chief operating officer, and Howard Behar to president, Starbucks International.  We completed the acquisition of The Coffee Connection, Inc., a highly-regarded Boston-based company, which greatly accelerated our entrance into the all-important East Coast markets.
We realize our successes would not be possible without the support of our surrounding communities, which is why we make every effort to contribute positively to our neighbors and the environment.  Through the world-wide relief organization CARE, we are able to financially assist people in the coffee-producing countries where we do business.  Starbucks-sponsored assistance programs have made a difference in more than 1.3 million lives to date, and we are proud to be the largest annual corporate donor to CARE in North America.
Making a difference is truly what Starbucks is all about.  From our people to our coffee to our stores, we seek to offer a singular Starbucks Experience.
For all of you who touch Starbucks in any way, I would like to thank you for your ongoing support.
Warm regards,
Howard Schultz
****
These are precious moments to savor the place where we came from and think about where we are going … As always, your input is welcome.  ~Melody
Related posts