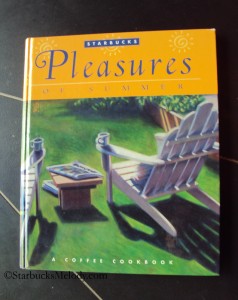 I thought it would be fun to take a look at the recipe book that Starbucks produced (in partnership with Sunset Books) in 1996.  The book was called Pleasures of Summer, and came in a hardbound edition, and was sold in Starbucks stores.  This was actually the second of two books produced in partnership with Sunset Books.  The first one was a 1994 book called Passion For Coffee.
I believe that it is still possible to order these books through Amazon.com.  If you do that, pretty please, use the Amazon.com widget in the right-hand column of this blog for this order, or any other order.   My little blog could use your support!  (Click through the widget and then search by "Starbucks Pleasures.")
The Pleasures of Summer book has a large number of recipes in, and I've only included photos of a few pages below.  I love the incredible care that has been taken to write about whole bean coffees.  Notice that even the borders of the pages are ornately designed.  Here's an example of that!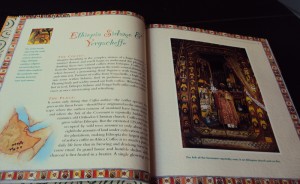 The book's forward was written by Dave Olsen, who is often referred to as the "co-founder" of Starbucks.  Dave Olsen is credited as the Starbucks partner who came up with the perfect blend of beans that formed Espresso Roast, and unchanged, is still used in Starbucks stores everywhere.  From the official Starbucks blogs, there is a must-read article that tells a little bit about the story of Espresso Roast:
Espresso Roast, Crafted for Excellence.
I categorized this article under "Starbucks history lessons" which is one of my favorite categories as it skims moments in time of Starbucks of yesteryear.  While I understand that Starbucks will never be the same as it was in the 1990s again, I think there is a certain value in reflecting on your own brand's history, and considering that in deciding the where the brand is going in the future.  That was a fairly verbose way to say that history is important!  This is a high quality book.  I hope you like it too. Please make my day and leave me a little comment too. 🙂
Related posts
Socialize

Subscribe
Join the StarbucksMelody.com mailing list to receive a weekly email with new posts.