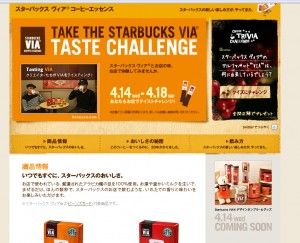 The high quality coffee in an instant, Starbucks Via Ready Brew, launches in Japan Wednesday, April 14, 2010.  Japanese customers finally get to try and experience this amazingly easy and versatile instant coffee.  My favorite use for it is still to mix it with a bubbly water in the summer for an amazing iced drink.  Vanilla Bean Dry Soda and Via Ready Brew mix perfectly together to make a great summer treat!
Of course, I don't speak Japanese but it looks like that in Japan, they will be doing some sort of Via taste challenge in the stores from the 14th to the 18th.  Also from the Starbucks Japan page, it sure looks like Via Ready Brew launches with some great merchandise to go with it. Notice the Via Bearista Bear featured on the Starbucks Japan homepage! Again I am so jealous of the international markets! That little Via Bearista Bear is sooo cute!!! Look at that adorable orange Via apron.  (Screen cap of the Starbucks Japan home page used as the image icon for this blog post).
For those who are interested in reading another StarbucksMelody.com blog post about the Japanese Starbucks market, check this link out:
Starbucks Around the Globe: Japan
In Japan, Via is called "Via Coffee Essence" not Via Ready Brew.  Numerous Starbucks leadership people, including Howard Schultz are there for the launch of Via in Japan.  Here is his letter about the excitement of Via coming to Japan and the growth of Starbucks in Asia:
To:     All Starbucks Partners
Date: April 12, 2010
Re:      A Message from Howard: The Starbucks Growth Story in Asia
Dear Partners,
I'm writing you today from Tokyo, where we are launching Starbucks VIA® in 870 Starbucks stores in Japan. I am joined by other members of the Senior Leadership Team (including John Culver, Arthur Rubinfeld, Annie Young-Scrivner, Vivek Varma and Mary Wagner, our new svp, Global R&D) for this exciting milestone for the company following our successful introduction of Starbucks VIA in the U.S., Canada and the United Kingdom.
In-home coffee consumption in Japan represents a huge opportunity for Starbucks. We believe Starbucks VIA will offer Japanese customers another fantastic premium coffee option, allowing them to enjoy Starbucks quality coffee in a convenient, single-serve format. Our research shows that 80 percent of our customers regularly drink coffee at home. And in Japan, at-home coffee consumption is a $5 billion market. I was here in Japan two months ago and I could not be more proud of the work the team here has delivered. Our Japanese partners are excited, and when that happens, I know we have a "hit on our hands."
This is our third stop in a four-country visit to Asia. Over the weekend we were in Korea to tour stores, meet with partners and sit down with our joint venture partner, Shinsegae Group. We have been in the Korean market for more than 10 years, with 3,500 passionate partners serving more than 120,000 customers every day in 35 cities. The vibrancy and optimism in Seoul was incredible. Our stores were extremely busy, reflecting our status as the number-one specialty coffee company in Korea.  We hosted a fantastic Open Forum, where I had a terrific conversation with a group of store managers and store partners. I am very confident we will continue to do well in Korea. Our partners give me that confidence.
Prior to Tokyo, we spent two days in Shanghai touring stores and meeting with our Starbucks Regional Support Center partners.  We have long said that China will be one of our largest markets, and this trip once again reinforced that notion. Shanghai is booming. The city is preparing for the World Expo opening in May and Starbucks has three new stores in excellent locations, ready to welcome visitors to the World Expo. Our team in China is ready for the many international and Chinese customers that will descend on Shanghai over the coming weeks.
The Starbucks Experience is alive and well in Shanghai. I was impressed with the local innovations we have made across our food and beverage offerings and the roadmap of innovation and growth the China team is leading. We hosted an Open Forum and it was great to hear first-hand the remarkable work our partners are doing in China. We had the opportunity to see our Shanghai partners in action at the Shanghai World Financial Center Store, a store at the base of the tallest building in "new" Shanghai. We also visited the Bing Jiang Store located on the Pu Dong side of the Huangpu River. The stores looked amazing and, true to form, our partners in Shanghai are rising to the challenge, providing legendary service, warmth and energy to the many customers enjoying the Starbucks Experience.
After Tokyo, we will travel to Hong Kong to celebrate its 10th anniversary. We have a fantastic day lined up in Hong Kong, a unique, trend-setting metropolis where we have more than 100 stores in key areas all over the city.
As I sign off on this note, I want to thank you for all your hard work and accomplishments.  It never ceases to amaze me how our company is so global but at the same time local … touching communities near and far with the original, fresh and consistent experience our partners provide.
As we round the corner on this Asia trip, I return to the United States with even more optimism about the future of our company and my faith in all of you.  Thanks for reading and for all you do each and every day.
Onward,
Howard
Related posts