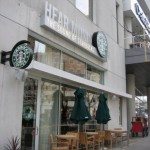 Once upon a time, Starbucks bought a small company called HEAR Music.  The year was 1999, and Starbucks wanted to expand into the entertainment industry and so they purchased Hear Music and all five of that company's existing CD stores.  The five stores that began as CD store were remodeled to include a Starbucks coffee bar but eventually Starbucks decided to close all five of those original stores.  Here are the five original locations:
(1) Berkeley, California (Closed 7-30-07)
(2) Palo Alto, California (Closed 6-24-04)
(3) Santa Monica, California (Closed 1-26-2009)
(4) Sony Metreon, San Francisco, California (Closed 10-15-00)
(5) Chicago, Illinois (Closed 1-28-02)
Starbucks opened three flagship concept Hear Music stores, though all three stores were later converted back to regular Starbucks stores when the Hear Music era ended in late 2008.  The three premier and flagship concept Hear Music stores were located in Bellevue, Washington (located at 545 Bellevue Avenue NE, opened 11-24-2006 as a Hear Music), San Antonio, Texas (located at 111 West Crockett, opened 12-9-2005 as Hear Music store) and Miami Beach, Florida (located at 605 Lincoln Road, opened 2-14-06).  There is an informative article here in QSRMagazine.com about these flagship store locations.
There were also about 45 Starbucks stores in Austin, Texas, and Seattle which had CD burning stations.  Customers could download music and burn their own CDs, using these music media bars.
My own personal experience with the Hear Music era of Starbucks really was not all that favorable.  One day as I was out shopping at Bellevue Square, I stumbled upon the Bellevue Hear Music location.  I remember it being a rather jarring music.  That was long before I was blogging, and I was not nearly as knowledgeable about Starbucks as I am now.  I can remember wondering if I was even in a Starbucks at all, and think that I had found a CD store with a little Starbucks bar.  The music was too loud.  I made a mental note not to return to that store.
I distinctly remember the CD burning stations too.  I wish I had been taking photos and documenting Starbucks years ago, but this was long before I ever dreamed of having a blog.  A neighborhood Starbucks which I frequented often had a CD burning station.  This North Seattle Starbucks, opened in 1994, had CD burner about the size of a rolling condiment bar, and it was placed under an LCD screen which showed what music was currently playing.  It looked to me like people pretty much ignored the CD burning station.  I really wish I had a picture of it.
In hindsight, Starbucks must have recognized that expanding into CD sales at a time when technology was moving customers away from physical CDs wasn't a great move.  But they tried it, and experimented with it in a bold way.  Starbucks had always had a lot of success with a small number of CDs in their stores, and so this growth probably seemed like a logical extension of what they were already doing well.  In fact, still to this day I look forward to seeing a small number of CDs in a Starbucks; I personally don't want to be overwhelmed by them.
I owe a big thank you to a very loyal reader of this blog who sent me all of her (or his?) photos for this article.  This person doesn't comment on the blog, but I have exchanged enough emails with her to know that she is powerfully passionate about Starbucks, and more knowledgeable than I.  The information in this blog doesn't quite match the Wikipedia article on Hear Music, but I trust my source.  All of the photos are courtesy of this anonymous reader.
Photos of the three flagship Hear Music stores:
Here are a few photos of the Bellevue Hear Music store:
And now for photos of the Miami flagship Hear Music Starbucks:
Photos of the flagship Hear Music Starbucks in San Antonio, Texas:
I hope you've liked this history lesson of the not-so-distant Starbucks past.  It's absolutely interesting to me the store concepts and products that Starbucks has experimented with.  If you like reading about important Starbucks history lessons, you might enjoy the article on Joe Magazine (a failed 1999 attempt to enter into the magazine business with a partnership with Time Magazine), or the article on Mazagran coffee soda (a failed early partnership with Pepsi producing a carbonated coffee beverage), or you can browse the 1992 Shareholder report (definitely nothing failed there, but it is a momentous piece of Starbucks, and this is your chance to browse the very first annual shareholder report after the company's incorporation).  I also recommend browsing the blog article on "14 t-shirts tell their stories" – another great chance to look at the history of Starbucks as told through promotional t-shirts!
Can you imagine a Hear Music store now?  It might work to have an entertainment concept Starbucks now, but it would have to de-emphasize CDs and maybe focus on iTunes or other devices.
Please join in the comments!  Thanks!
Related posts