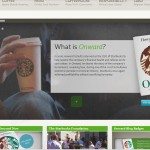 The book Onward: How Starbucks Fought For Its Life Without Losing Its Soul is coming soon.  The official release date is March 29, 2011.  The book chronicles the Starbucks transformation from the time when Howard Schultz returned as CEO to the present day Starbucks.  Howard Schultz's proceeds from this book are being donated to the Starbucks Foundation.  You know it's funny, but I thought I had read at one time that all of his proceeds were going to the CUP Fund, but I must have been mistaken about that.  (The CUP Fund is a safety net for partners who are experiencing significant immediate hardship because of catastrophic circumstances outside their control.  Assistance may include referrals to Starbucks benefit and employee assistance programs or to community resources. Partners with the greatest and most immediate need are considered for financial assistance of up to $1,000.)
I've been told that Starbucks partners will receive a copy of this book early.  I think their copy arrives about two weeks before the national release on the 29th.  I have already pre-ordered my copy of the book.  I received an email about it from MyStarbucksRewards and was easily persuaded to buy a copy.
To promote this new book, Starbucks has created a website full of information about it and complete with blog badges too!  The website is as follows:  http://www.starbucks.com/onward.  Here is an image of the largest of the blog badges:

I have noticed that blog badges and blog articles about onward are beginning to pop up here and there.  I am still encouraging my readers that if you are going to buy this book (whether in Kindle format or hard copy) to use the widget in the right column of this website.  It will be a small way that you can help StarbucksMelody.com running and alive.  And as always, if you like this website, hope you'll click the "like" button on the Facebook link also in the right column.
At this year's annual Starbucks meeting, there will also be pre-sales of Onward happening.  For those actually attending the 2011 Starbucks meeting in Seattle, there is a really special Onward offer that includes a pre-loaded Onward Starbucks card.  I feel pretty sad that I might not be going to this.  I don't know why but I haven't received my proxy to vote thingy in the mail.  I called Charles Schwab but I have no idea what is going on.  I think I am having mail problems.  Anyway, I might miss the chance to be there in person because without that proxy, I cannot get inside!  Back on the topic of the Onward offer at the annual meeting, for those attending the annual meeting they get a booklet of the first 3 chapters of Onward so that they can start reading early.
This is a totally open thread! Feel free to talk about anything related to Starbucks!  There is a ton to talk about: New food, new logo, new coffee, new everything.  A partner showed me her beautiful new partner card with the new logo on it, and I nearly drooled on it.  Starbucks is even growing when it comes to stores.  Brad, the official voice of Starbucks, even tweeted about a new Starbucks store which is located inside the headquarters on the eighth floor.  Yes, it's a Starbucks inside a Starbucks, and it officially opens to partners only on March 8, 2011.  This new store is not open to the public.  (Edit: I have also heard gossip that the partner store, selling branded merchandise, has been relocated to make it much easier to get to without an escort, though I don't have details to share here about that.)
Take it away in the comments!
(Edit on March 7, 2011:  I had thought that the proceeds from this book were going to the Starbucks Foundation only.  In the comments, I stand corrected that the proceeds are split between the CUP Fund and The Starbucks Foundation.  I'm glad that it is both!  The Starbucks Foundation makes a difference in our communities, and the CUP Fund is there for partners in urgent need.)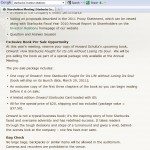 Related posts