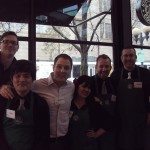 Today (March 1, 2011) was the Westlake Center Starbucks' Customer Appreciation Day!  I took some time off from my work schedule and went to the event hosted by your friendly Starbucks located on the corner of 4th and Pine Street in downtown Seattle.  This store has an amazingly long history, and it's a store that I've visited off and on now for close to two decades.  I remember when it was once a Seattle's Best Coffee.  I remember coming downtown in the 1990s and when Pine Street was closed to vehicular traffic!  The extremely large planters (seen in the first photo below) used to sit in the middle of the roadway so that only pedestrians could use the road.
I really think this is probably a challenging store to manage as the clientele is a very broad mix of personalities.  The store has a certain amount of foot traffic from Westlake Center.  Shoppers on their way in or out of the Westlake Center may stop for a coffee.  The Westlake Center also has the southern ending point for the Monorail, so this store undoubtedly gets a variety of tourists who have ridden on the Monorail from the Seattle Center to the core of downtown Seattle.  The store is a short walk from Pike Place Market, and may have some of those tourists too.  There are some offices within a few blocks so probably the store has a small base of regular customers from business.  Though largely, I would imagine the store has more of a tourist and shopping base of customers, and fewer regulars than perhaps at a neighborhood Starbucks.
Greg, the store manager, has taken this store and breathed new life into it.  The partners are friendlier than ever before, and it feels like a happier place.  It just feels like a transformation has happened.  Today I met so many great people.  I met Nitza, who carefully explained that "its' Nitza, rhymes with pizza" and I had fun meeting Soo and Erik who hosted the two coffee seminars that I attended.
Erik sampled Tribute Blend paired with Godiva chocolate-covered cherries, and chocolate-covered nuts.  It was a delicious pairing.  I am definitely liking the new Tribute Blend which is extremely complex and can probably pair well with a variety of foods.
Soo prepared a "music pairing."  He played a video of images about three specific Starbucks coffee, and talked about how the coffees paired with the music.  The first of the three coffees during Soo's presentation was Breakfast Blend.  This was paired with Jesu, Joy of Man's Desiring off the Sunrise music CD.  One thing I really liked about talking about music with coffee is that it drew the audience into the tasting and really caught their attention. I've watched too many coffee tastings where the customers don't want to slow down and talk about coffee, and would rather dive into some delicious treat that the coffee is meant to be paired with.  Next, Soo paired Organic Shade Grown Mexico coffee with the CD Save it For a Rainy Day, and more specifically, we listed to the song "I will remember you."  And finally, we tried Caffe Verona paired with Justin Bieber.  I liked the Verona.  Justin Bieber, I could do without.  Just as an aside, the bridge that is featured on the Verona coffee stamp is a real bridge.  I mention it briefly here in this prior blog post.  (Scroll down towards the bottom of that blog article.)
Lots of people came and went, and I took a ton of photos of the team at the Westlake Starbucks.  Customers were trying the coffees, and people were signing up for the Tribute Blend pre-orders.  It was a fun event, and a good time was had by all.
If you want to visit this store, the address is as follows:
Starbucks store 3343
400 Pine Street
Seattle, WA 98101
206 467 1600
If you like reading about Starbucks stores in the urban core of Seattle, I recommend that you read the Pike Place Starbucks blog post, the Pier 55 Starbucks store review (combined with a review of the Bellevue Square Starbucks), the Columbia Tower Starbucks (which is one of the oldest Starbucks in downtown Seattle and has an interesting history), and lastly, the Fourth and Seneca Starbucks store review.  Although the Fremont Starbucks is a little north of downtown Seattle, it absolutely is a highly recommended blog post.  The Fremont store is very unique!
Here are the photos from this event!
*****
One last thing. I have an old photo of this store that shows off a (Red) themed exterior.  My apologies for the poor quality picture, which was taken on December 14, 2008.  I still think it is fun to look at: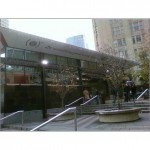 Related posts