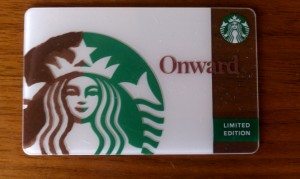 Today was the annual meeting of Starbucks shareholders, held in Seattle, Washington, at McCaw Hall.  I got there early and stood in line for almost an hour, wanting to get a good seat.  I was not the first person in line!
It was beautiful spring day.  It was clear, and there was some sun and blue skies (albeit, still not short sleeve weather).  Before the meeting, I cycled around chatting with lots of people I knew.  The doors opened at 8:00 in the morning, and the meeting didn't actually start until 10:00, so there was plenty of time to socialize.
I caught up with Jason Simpson, June Ashley, and Gabby Evans, all working near the Clover and had some delicious Papua New Guinea Arokara, which had been brought in especially for the meeting.  If you can get a chance to try this beautiful single origin coffee, I highly recommend it.  It's smooth, yet bold, and very flavorful.
(Jason Simpson and June Ashley work in Starbucks' coffee department at the headquarters.  Gabby is at the headquarters too but works in global learning, I think.)
There weren't any really major life-changing announcements to come out of this meeting.  After Howard announced the acquisition of Clover at the 2008 meeting, I think everything has felt very anticlimactic to me!
Photography is not allowed at the meeting, unless you are there as established media, so I don't have meeting photos.  I did get my new Onward Card at the meeting, so I'm sharing a picture of that.  There was an opportunity for shareholders to get the card early if you pre-ordered the book Onward at the meeting.
The best Howard Schultz quote was, "The word 'Love' isn't commonly used in business. That is what we are trying to express here."  I also liked that Howard Schultz emphasized the extreme importance of the store manager.  The "most important person in the company is the store manager."
Some of the interesting things talked about at the meeting are as follows:
Starbucks Keurig Cups will be in stores by 2012
China has more than 160 cities with more than one million people, and by 2015, "We will triple our footprint there."
Annie Young Shrivner spoke about local foods in China, and many people in the audience appeared to be oohing and ahhing wanting to try things like a Frappuccino that is half tea and half coffee.  (I think this was called a "Yuen Yueng" Frappuccino.)
Adam Brotman spoke about the Starbucks Digital Network and announced new partnerships with The Economists, Marvel Comics, and ESPN.
Chris Bruzzo spoke about what is still one of my favorite topics: Mystarbucksidea.com – In the three years that MSI has been alive, users have submitted over 123,000 ideas and the most frequent users visit the site over 200 times a month.
It was also announced that there are plans to expand the Starbucks rewards system to your local grocery store, such that it would be possible to earn "stars" when buying things like a bottled Frappuccino, Starbucks ice cream, Via, and coffee, or other Starbucks-branded grocery products.
After the meeting, there is always a question and answer session.  It is a chance to ask Howard Schultz and all of the team a direct question.  One person asked about the success of stores selling wine and beer.  One person asked for more syrups.  One person wanted stores to sell carrot juice.
I asked Howard Schultz about partnerships that have been meaningful to him.  Starbucks has partnered with so many great organizations such as Conservation International, CARE, project (Red), Ethos, and many more.  I asked him which partnership has been the most meaningful to him and why.  And then, just for fun, at the last second I threw in, "How can I get an Onward t-shirt?"  That brought some chuckles.
Howard didn't answer my question totally, but rather talked about the importance of Starbucks to give to communities, and to be a brand that is socially responsible.  And then he said with a smile in his voice, "We'll get you a t-shirt."
The next person after me talked about his qualifications a bit, and asked 'Can I have a job at the Starbucks headquarters?' (not verbatim).
Howard, who doesn't miss a beat and has hilarious off the cuff moments, said in response, "Are you sure you wouldn't just like a t-shirt?"
There was a ton of laughter in the audience at that point.
Last year I stayed for a round of socializing after the meeting, but this year I took off quickly because I had planned a vacation to visit family, and so I had to get to the airport.
At the end of the meeting, partners were giving away bags of Tribute Blend, and I had a last round of goodbyes to a few partners all the while trying to leave fast.  I even met Steve Lockitch who sometimes comments on this blog and MyStarbucksIdea.com.
And that was it.
This is an open thread.  Feel free to talk about anything Starbucks related.  (My apologies for typos.  I really wrote this out in a rush.)
Related posts