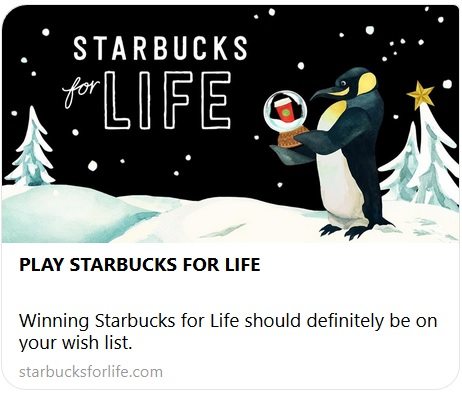 Starbucks For Life is back!
Melody, December 4, 2017
26
2 min

read
Starting Tuesday, December 5, 2017, you can play "Starbucks for Life" once again! Collect game pieces to win prizes! Six lucky players (five in the United States and one in Canada) will win Starbucks for Life – A free food or drink every day at Starbucks for 30 years! Collect game pieces to win prizes such as bonus stars, ranging from 10 to 125 stars. In the U.S., game players may also win holiday food, beverages, and select merchandise. There are other prizes such as Starbucks for a year or for a month, and you may be able to earn more than 2 game plays in a day by completing challenges.
This year's Starbucks For Life holiday edition game runs from December 5, 2017 through January 8, 2018. Starbucks partners (employees) are not eligible to win prizes. Starbucks for Life first started in 2014 and included in the prize was a beautiful hammered gold Starbucks card.
Like last year, go to this website: http://www.StarbucksForLife.com. For the Canadian version of the game, visit www.starbucksforlife.ca.
Are you not a Starbucks Rewards member or not yet Gold level rewards? During the month of December, anyone making a purchase at Starbucks with their registered Starbucks card (whether the physical card or on the mobile app) will automatically earn Gold level status for one year! This is part of what Starbucks calls "Project Give Good". There are other Starbucks Project Give Good events happening. Throughout the month of December, Starbucks "Give Good" squads in red and green aprons will be out and about at community celebrations and events across the country giving away a total of 50,000 $20 Starbucks Cards. The locations and dates of the Starbucks Card giveaways will vary. It's all about the spirit of giving!
Good luck playing Starbucks for Life! If you are a winner of any kind, I want to hear about it!
(The Starbucks announcement for Starbucks for Life is here.)
Related posts