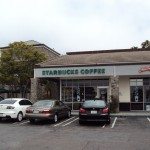 One more Orange County Starbucks store review.  Since I was just recently in Orange County, I might as well post a little bit of my Starbucks adventures.  On June 7, 2010, I made it into a Starbucks located on Golden Lantern in Dana Point, California.  This is a beach city in the southernmost part of Southern California, and home to the famous Doheny Beach.
I arrived at 1:15 in the afternoon, and ordered a tall whole milk chai latte with vanilla.  I got it in a for-here cup, and the black apron barista at the register pre-warmed the cup with hot water.  That's an important touch, and gets many extra bonus points for that.
Jackie (the black apron barista) came out and started wiping down the tables while I sat enjoying my chai, and I asked her randomly what her favorite coffee is, and she told me Sanani.  Okay, now I like this person.  The store was clean.  Trash can liners were changed while I sat.  The bathroom was clean and stocked, and had a baby changing table too.
There was a quiet stream of customers coming and going.  One man came in and asked for grounds for his garden, and the store gave him a half-full bag of grounds.  He walked away happy, from what it appeared.  After my chai, I decided to get a cup of Sumatra and Jackie offered to brew it for by any brew method that I preferred.  More points.  I sat down, people came and went, and meanwhile as I waited for the cup of coffee to be brewed I saw a red-head young green apron barista run over and check the condiment area, checking the thermoses with milk in them.
I order drinks in for-here cups often and I notice that in Orange County this routinely earns you a ten-cent cup discount which is definitely not the case in Seattle.  Though I didn't blog about it, I had previously visited a Starbucks near the Orange Circle in Orange, and also received a cup discount for a for-here cup.  I imagine that really encourages people to use for-here ware.
This store gets an A+.  If they're like this every day, Starbucks should be proud.  But what makes this store great is the partners. They've hired somebodies and not just warm bodies. Somebodies will say "I'm someone who will check the condiment counter" and "I'm someone who will gladly brew Sumatra for a customer."  A warm body doesn't have that oomph and is more likely to just stand around.  Thank you to John Moore for teaching me that great little saying ("Hire somebodies, never warm bodies.").  I don't even know if I am applying it correctly, but it sure sounds good!
Related posts