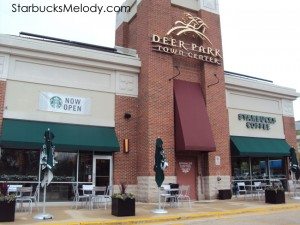 Starbucks has just recently opened up a gorgeous new store (which is LEED Certified) in Deer Park, Illinois.  The new store opened on May 6, 2011.  I'm not sure why but I find new stores to be so exciting, and I love seeing the new logo on them.  Here's the address:
Starbucks store #12939
Deer Park Town Center Store
20530 – North Rand Road #438
Deer Park, Illinois 60010
I met with the store manager, Lisa, who filled me in on many of the details of the store.  The little plastic chairs are incredibly unique.  The chairs were made by a company that produces them from recycled plastic bottles (I am assuming the 2-liter bottles?).  It takes 111 bottles to make one of these chairs!  The store uses reclaimed wood throughout, sourced from local Chicago-area fallen trees.  The lights are light sensitive:  as I understand it, if the store is very bright due to natural light through the windows, the interior electrical lighting either dims or goes off.  Somehow I find that kind of amazing.
Notice the map on the wall which depicts the store's immediate area.  I definitely think that's a nice touch!  By the way, this excursion to this store was not planned in advance of my trip.  I didn't know I was going to it until I was in the car and nearly on my way.  Denise, at some point, (not around me) had called the store manager a couple hours before we arrived and had simply told her that she was dropping by with a "Seattle blogger."  I am completely impressed that the store manager chose to stay late to meet me!  I just have to say "thank you" for that.  I was not expecting it by any means, but it was really nice to have the store manager highlight some of the unique aspects of this LEED store to us.  I hear this is the first LEED Starbucks "in the midwest."
I strongly recommend some additional reading related to LEED Certified Starbucks stores:
Visiting this Starbucks was one of the highlights of the trip, though it wasn't planned out in advance.  I enjoyed seeing a new LEED store, meeting a dynamic and knowledgeable store manager, and hanging out with a couple of friends drinking coffee.  (I ordered a doppio con panna and got a very nice drink with very sweet caramelly shots.) I took all the pictures of this Deer Park store on my visit there on May 28, 2011:
**********************************************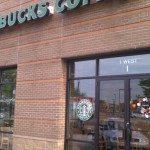 The next morning, Denise and I headed to a local neighborhood Starbucks to start our day of Starbucking.  Major props to her local store for being such a perfect little neighborhood store.  We met an amazing young barista named "TJ" who prepared a French press of Sumatra, and we chatted a bit about what it pairs with.  He commented that it would go well with my oatmeal, which I have to agree that is a good pairing.  The register barista, Radek, was friendly too.  Denise and I had a good time hanging out there before we went on to visit some Clover Starbucks in her area.  I'll have another blog post later about experiencing a Clover Starbucks in the Chicago area, but I have to pass on some great props to a welcoming little neighborhood store too even though I'm not writing a feature blog post out of it.
I didn't get to meet the manager of the local Mt. Prospect neighborhood store (Byron) but, as always, I assume a store is a reflection of the manager.  Kudos!  His store is Starbucks store #2470,  1 West Rand Road, Mount Prospect, IL, (847) 392 2631.
One of the attached pics below was taken the morning of the 29th by my friend Denise.  We were in the middle of a coffee tasting of Sumatra, and she captured our little group with her phone's camera.  With her permission, I've included that picture too.
Related posts