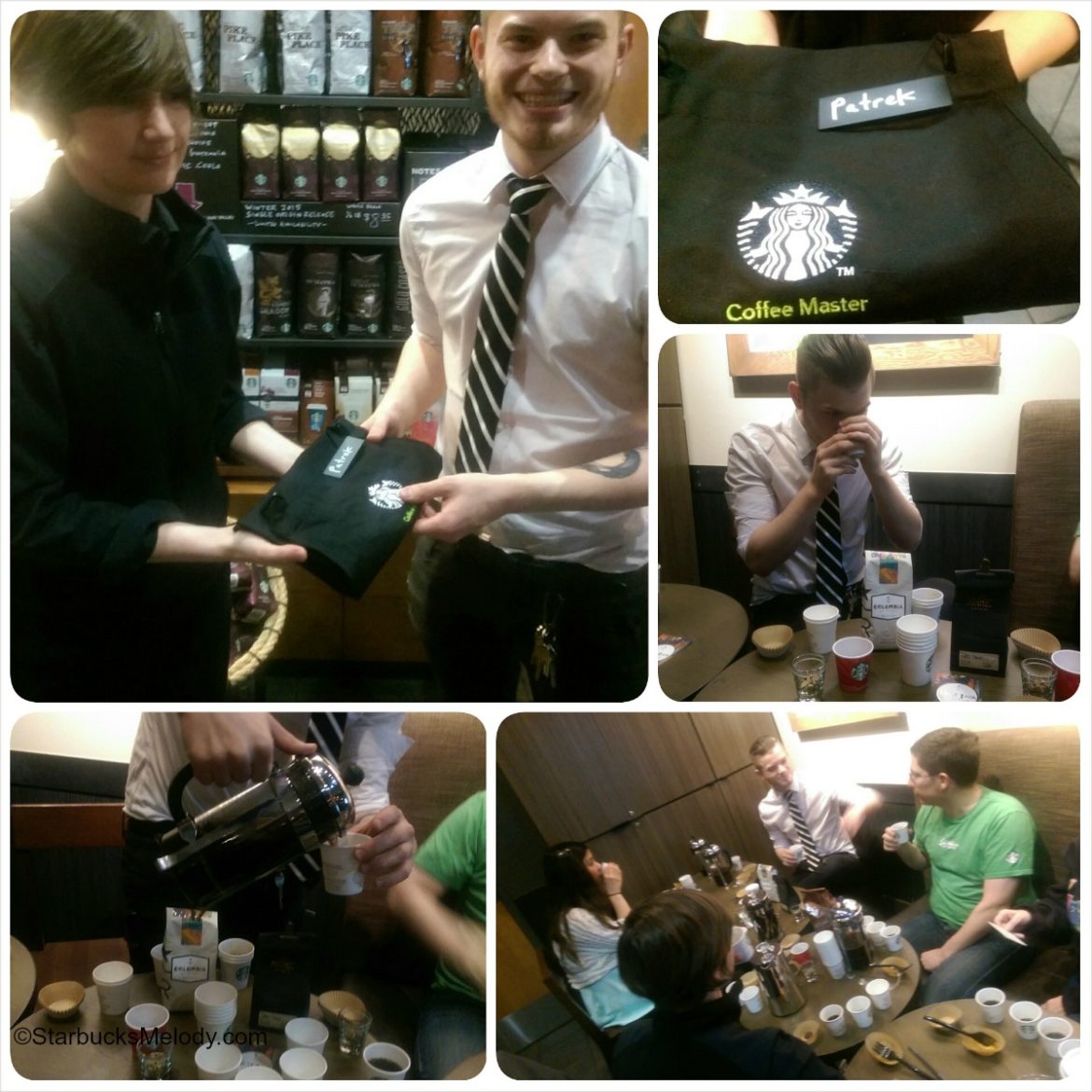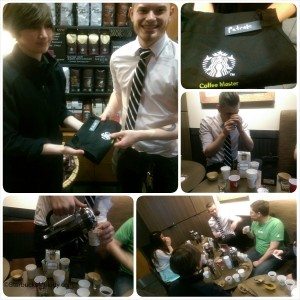 Lots of Starbucks stores have coffee tastings going on. But there is one kind of coffee event that is extra special: when a Starbucks partner earns his or her black apron. Tonight (January 6, 2015) I had the chance to attend Patrek's  coffee master certification seminar (at the Corson & Michigan Starbucks). His store manager was present to assure that he did everything possible to earn his black apron. And he definitely earned his black apron!
This was a spectacular coffee tasting. Patrek thought through everything from pre-trying every pairing, having the coffee beans available to smell, and even having green unroasted coffee beans available. For tonight's event, he dissected Starbucks Pantheon Blend, which is the signature coffee blend of the Starbucks Reserve Roastery and Tasting Room.
Starbucks Pantheon Blend has three components: Colombia El Penol, West Java Preanger, and Guatemala Antigua Santa Clara Acetenango. The Pantheon itself is a complex, smooth, low acidity, rich cup of coffee. It pairs nicely with darker chocolates, hints of lemon and orange, and brown sugar notes.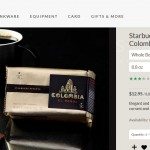 The first pairing was the Colombia El Penol paired with sweet mandarin oranges. This was an unexpected pairing! Patrek explained that one of the most subtle flavor notes in Colombia was orange. He also explained that he wanted each food item to work well with the Pantheon too – on its own. The sweet oranges were definitely a brave pairing because the hint of orange in Colombia is so subtle. I thought that the oranges notched up the acidity of the Colombia, and slightly brought out the orange. I really enjoyed this pairing though I'm having some difficulty explaining it. It's definitely not a traditional pairing. Some kind of chocolate would be a more traditional pairing with this coffee.
The second pairing was the West Java with salted caramel almonds. (He found the salted caramel almonds at Trader Joe's.) Again, Patrek tried to bring out some of the most subtle flavor notes of the West Java coffee. This coffee is known to pair with brown sugar flavors, nuts, or even some chocolates. The soft caramelized flavors from the almonds definitely help bring this out. Patrek mentioned that he thought about trying other nuts – like walnuts – with this coffee, but discovered that a powerfully flavorful nut or too much caramel flavor would overpower the coffee.
The third pairing was the core Guatemala Antigua with Lindt lemon dark chocolate. This was an amazing pairing. The lemon flavor in the chocolate is just enough to really enhance the lemon notes in the coffee but not overpower it. And the dark chocolate made the coffee even smooth and brought out tons of cocoa notes. Patrek mentioned that this was his favorite pairing of the three. I have to admit I really liked this one too. We all agreed, this lemon chocolate bar would be great to try with Casi Cielo too. (Patrek went to the Roastery and wanted to get the Guatemala Antigua Santa Clara for the coffee seminar but found that it was unavailable. After consulting with coffee masters at the Roastery, he was told to substitute core Guatemala Antigua, which is very similar and sourced from farmers only about sixty miles away from the Guatemala Antigua Santa Clara farm).
As we talked about the reasons why he picked each item, we talked about what pairing ideas were rejected. Patrek mentioned that he had tried pairing the Guatemala with a milk chocolate. Even though that worked quite well, he wanted each specific item to pair nicely with the Pantheon Blend, and he discovered that dark chocolate is a better pairing with Patheon.
All of tonight's coffees were prepared by a French press. In some of the photos, you can see the green, unroasted coffee. Patrek was able to work with Roastery partners to be able to get some unroasted coffee beans of each coffee tasting, and to help properly dissect the Pantheon Blend. I was super impressed to see he'd gone the extra step to get both the green unroasted beans and the actual coffee.
I hope you enjoy the photos!
Congratulations Starbucks partner Patrek on new black apron! You are a coffee master now!
Related posts