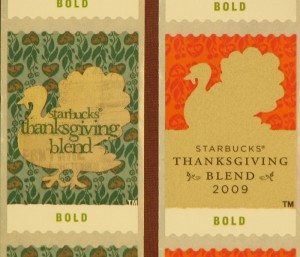 Thanksgiving Blend is here! Starting November 3, 2009, Thanksgiving Blend arrives in the stores! This coffee was first launched as a new Starbucks blend on November 4, 2008 and due to its popularity, it returns again in 2009.  Famed chef Tom Douglas helped create this blend which is meant to be a wonderful companion to a Thanksgiving feast at your dinner table. The coffee is primarily a blend of Sumatra and Guatemalan Antigua beans. In November 2008, there was a cupping at the Starbucks Support Center where a few customer joined in the event, and Tom Douglas briefly spoke about Thanksgiving Blend. Video is here:
http://www.youtube.com/watch?v=N7BeTLud2T4
Coffeemaster Anthony Carroll and Tom Douglas together created and blended this coffee, and there is an informative video about the creation of this coffee is here:
http://www.youtube.com/watch?v=tf7Y-y-muoc
The coffee stamps for this post are the 2008 and 2009 stamps side by side. Notice that the 2008, initial launch year stamp, is undated.
Starbucks gives some coffee tasting information about Thanksgiving Blend as follows:
Flavor: Subtle spice, cocoa notes, hints of fine herbs
Body: Full
Complementary Flavors: Herbs, savory dishes, cheeses and desserts like gingerbread and cheesecake
Processing Method: Washed and semi-washed
Location: A blend of heavy-bodied coffees from Guatemala Antigua and Sumatra
Enjoy!
(Thank you again to Larry of Seattle Custom Framing for the photography of the Thanksgiving Blend coffee stamps)
Related posts