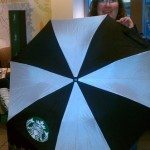 The Starbucks "partner store" is a merchandise store with items not available at any of their actual coffeehouse locations.  There is an online "partner" store which is only open to partners.  (Starbucks calls their employees "partners."). And  there is one physical  "partner" store located in the headquarters.  This blog post is about the one store actually at the headquarters, not the online store.  For those who don't know, the address to the headquarters is as follows:
Starbucks Coffee Company
2401 Utah Avenue South
Seattle, WA 98134
Up until recently, there was no easy way to go shopping at the "partner" store.   (From this point on I will call it the "merchandise store" because that is what it really is.)  It used to be that to go shopping there, you required a corporate escort to host you.  I've heard this was true whether you were a customer or a partner!  The merchandise store saw the need to open up their location to more people by relocating within the headquarters to a location that no longer requires a corporate escort.  On March 8, 2011, the merchandise store re-opened brand new on the 8th floor of the headquarters.  It is now immediately adjacent to the reception area (the north side of the reception area) and easily accessible to anyone visiting the headquarters.
I wrote about the merchandise store before in a previous blog post about six months ago:
Stuff you might find at the partner store – previous blog post
The new partner store is all new in every way.  It is in a new location (no longer buried deep inside the corporate headquarters), and it has tons of new merchandise with the new logo on it.  You can find water bottles, t-shirts, coffee mugs, books, notebooks, pens, an umbrella, a jacket, a grocery sack, magnets, key chains, and much more.   I bought some pens, the grocery sack, and an umbrella too.  I particularly like my umbrella!  It's a great simple design and it's a fun thing to have.  I am showing off my umbrella for all of you in the picture that goes with this article.  (Photo taken at the 7th and Pike Starbucks downtown.)   They say real Seattleites don't use umbrellas.  😉
I have to be honest that the day I visited the partner store, I wasn't really thinking about a blog post so I only took a couple of photos.  Nonetheless, if you are visiting Seattle, this is definitely a Starbucks must visit idea!  I just wanted to announce the change of location and show off the few pictures that I did take.
((Edit on 4-2-11:
I realize from comments and tweets that I wasn't clear in this blog article.  This store is open to the public now.  That is the big change as of March 8, 2011.  The Starbucks headquarters operates Monday through Friday, normal business hours.  Visiting this merchandise store would mean that you go visit the headquarters when it is open.  Go all the way up to the 8th floor reception area.  Look for the store's entrance adjacent to the reception desk.  Hope this helps to clear that up.))
Enjoy!
Edit on May 9, 2011:
I just used my Starbucks reusable grocery sack over the weekend and thought I would share a photo of it here.  I got it on this trip to the merchandise store, which was the same day I took the photos above: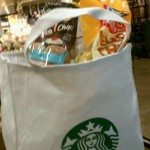 Related posts