Up for discussion: Starbucks Grounds For Your Garden
Melody, April 22, 2011
52
9 min

read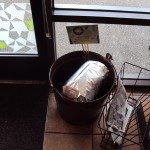 Today is Earth Day 2011, and in honor of that event I thought I would discuss something "green" that Starbucks does:  Grounds For Your Garden.  For those who do not know, this is a program that Starbucks launched in 1995 which offers customers the opportunity to take used coffee grounds for use in their garden.  The grounds are usually packaged in five pound bags, and are free of charge to the customer.
I recently found myself wondering if this program was still alive and well.  I saw a particular MyStarbucksIdea.com thread, and I worried that perhaps Ground For Your Garden had become a casualty of current lean labor practices at Starbucks.  I wondered:  If I wanted grounds for my garden (I don't actually have a garden.  This is a hypothetical question) would I be able to easily get them? It seemed like a timely question for Earth Day.
By the way, for a little more context, here is the MyStarbucksIdea thread that inspired this blog article:
Tell the truth about giving away coffee grounds
Here's my adventure in looking for the used coffee grounds: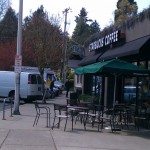 Leschi Starbucks (Store #3238 – King County) 121 Lakeside Avenue, Seattle, WA 98122 (206) 720 – 4803:  I arrived at this store shortly after noon.  Immediately I looked around for a small grounds for your garden bin.  I didn't see one anywhere.  I ordered Italian Roast coffee and an oatmeal with java chips added, and at the register I inquired about whether I could get any grounds for my garden.  The register barista explained that since the store has complete in-store composting (both customer facing and on the partner operations side too) that all of their compost was in one big bag.  She explained that there were some banana peels in it.  She offered that if I had a little cardboard box, she would gladly scoop some out for me.  She sounded very sincere with her offer.  I politely declined.  In fact, I don't have any use for used coffee grounds.   I ate my oatmeal and played on my phone.  While I was eating, a barista named Sandor came out and did a lobby slide.  He asked me 'how did I like oatmeal with java chips?'  We made small talk for a few minutes.  This store was just incredibly friendly.  They seemed like they were very sincere in their offer to scoop out grounds, and I was impressed that Sandor even knew I had ordered the oatmeal with java chips.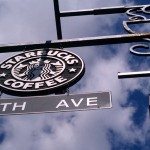 15th Avenue Starbucks also called 15th Avenue Coffee and Tea (King County) – 328 – 15th Avenue East, Seattle, WA (206) 323 – 1568:  I don't remember exactly what time I arrived at this store, but I think it was shortly before 1:00 p.m.  I walked in and was warmly greeted by barista-Luke who knows me well.  I looked around for a Grounds For Your Garden bin and found none.  I told Luke that I was looking for grounds, as he made me an iced Kenya from the Clover.  Unintentionally, I had almost the identical conversation as when I had visited the  Leschi Starbucks.  He stated that the store was fully recycling and composting both customer facing and partner facing, and that he warned me that there were banana peels in the grounds but that he would scoop some out for me if I wanted some.  I declined the offer of the grounds.  I realized that if I wanted to figure out if Grounds For Your Garden is alive and well, I would have get out of Seattle which is just a Starbucks anomaly in so many ways.  I got in my car and drove north.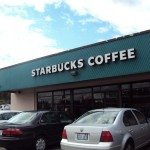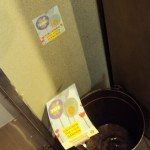 220th & Hwy 99 Starbucks (Store 3339 – Snohomish County) – 21920 Highway 99, Edmonds, WA 98026 (425) 775 – 4266:  I arrived at this Starbucks a little after 2:00 p.m.  I easily found the bin for the grounds and it was empty.  This is the only Clover Starbucks in Snohomish County, as far as I know.  I ordered an iced tea and inquired with a barista who was juggling five things at once, whether I could get grounds for my garden.  I explained that their bin was empty.  The barista (whose name I do not know) apologized profusely that there were no grounds.  She said that she would be happy to bag some up for me if I didn't mind waiting until after she got through the line.  I declined the offer of the grounds.  The store was far too busy for me to take the time to explain to the baristas that I was writing a blog article on Grounds For Your Garden.  But it looked like they were managing the line, and I appreciated the friendly offer to bag up some grounds.  I continued my journey north.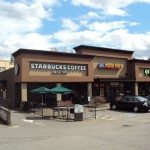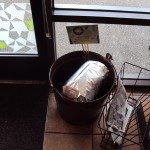 Starbucks (Store 10531 – Snohomish County) – 16809 Highway 99, Lynnwood, WA 98037 (425) 741 – 6537:  Next stop was another Starbucks along Highway 99.  I walked in and easily found the bin full of coffee grounds.  I ordered an iced coffee and had a mini carrot cake cupcake, and stayed long enough to recharge up my phone's battery.  I continued driving north.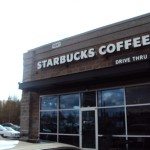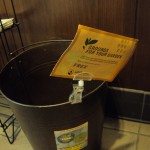 Starbucks (Store #10765 – Snohomish County) – 11802 Evergreen Way, Everett, WA  98204 (425) 348 – 7310:  Next stop was another Starbucks along Highway 99, which is referred to as "Evergreen Way" when you are in Everett.  I went inside and easily found the empty Grounds For Your Garden bin.  I asked the register barista about it, and she said apologized and said that the bin is almost always empty.  She explained that that store has a regular customer who consistently picks up the grounds shortly after they're bagged up, and so the bin is often empty.  She said she might have a little bit of grounds that she could bag up for me.  I said "no thanks."  I got some coffee and a sandwich, and browsed my phone a little.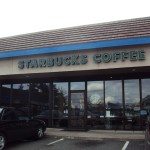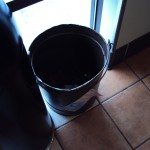 Starbucks (Store #3271 – Snohomish County) – 520 – 128th Street S.W., Everett, WA 98204 (425) 355 – 2478:  I finally turned off Highway 99, and found yet another Starbucks.  I went in and ordered a tall chai creme Frappuccino.  I easily found the Grounds For Your Garden bin.  It was empty.  I inquired with the register barista, who immediately offered to bag some up for me.  I declined.  The store wasn't terribly busy so explained that I was just writing a blog article about the used coffee grounds.  She really wanted me to have some grounds and asked again, "Are you sure you don't want me to bag some up?"  I tried to explain very honestly that I was just doing research for a blog article.  It was now about 4:30 in the afternoon, and already very tired of driving around looking for bins.  I left the baristas the url to my blog, and soon was on my way.  I knew there was another Starbucks not too far away, so I kept going.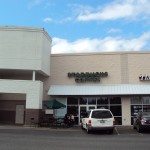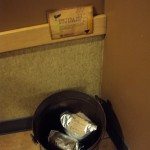 "Murphy's Corner" Starbucks (Store #3256 – Snohomish County) – 12906 Bothell – Everett Highway, Everett WA 92808 (425) 357 – 0698:  By the time I got to this Starbucks I was worn out.  I also felt like I could not consume anymore food or beverage.   I walked in and met two partners: Amanda and Alex.  Amanda remembered me from the time that I dropped by that store to write a review of the Starbucks Refreshers.  It was about 5:15 in the afternoon.  Alex had a ton of energy and I was thankful because I had none.  I couldn't decide what to order because nothing sounded good, so Alex suggested his favorite drink:  Iced black tea with strawberry sauce.  I ordered his drink.  I explained to the partners that I was doing research on how easy it might be to get grounds for my garden, assuming I had a garden.  It was a friendly and  short visit to the store.  And as you can see by the attached photo, there were grounds ready to go in their bin.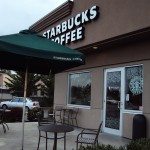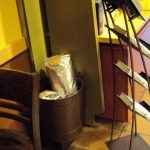 Starbucks (Store #3371 – King County) 20121 Aurora Avenue North, Shoreline, WA 98133 (20) 533 – 9520:  I was driving south on Aurora (which is actually Highway 99) and saw one more Starbucks that I could easily drop by.  I went in and saw that the store was slow, and the partners appeared to cleaning up a bit.  It was now about 6:15  in the evening, and it was cooling off.  I ordered a tall hot chai with one pump of vanilla.  Since it was slow I explained to the register partner, Lori, that I write a blog.  She seemed interested in it, and so I wrote down the url to it for her.  I easily found the bin of grounds, and the photo is attached.  I didn't stay very long. At this point I was eager to get home.
***
What did I learn from this journey?  I remembered that I'm not a fan of driving around all over the place.  I would say that "Grounds For Your Garden" is alive and well in Snohomish County, Washington, and that a customer could easily request the grounds if at a Starbucks in Seattle.  The MyStarbucksIdea.com thread that inspired this blog post was one where a customer was frustrated by not being able to find used coffee grounds at Starbucks in Orange County, California.  I still wonder if these free coffee grounds are being offered in many places, or whether my experiences were a fluke.  In addition to the above, I would also say that I today I met many Starbucks-enthusiastic partners.
The real question is this:  What is your experience with Grounds For Your Garden and do you take advantage of the free used coffee grounds which can be used for compost in a garden?
Lastly, don't forget that today, in celebration of Earth Day, if you bring your own cup, mug, or tumbler into a Starbucks you can free coffee or tea in it.  In addition, travel tumblers are 20% off today only!  Feel free to talk about anything "green" Starbucks does, or how your Earth Day is going  (did you get your free coffee?) or any other Starbucks-related topic!
Related posts