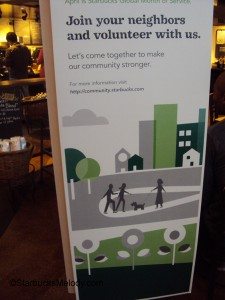 This April marks the third annual Starbucks Global Month of Service.  It's a time when Starbucks does all that it can to facilitate getting both partners and customers involved in local community service projects.
The Starbucks Community Service page  has been modified to emphasize a large amount of small projects, with a special 5-day focus on downtown Seattle: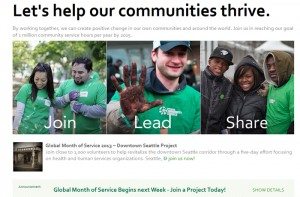 This year, Starbucks is facilitating a number of smaller events rather than one or two huge marquee events. The last big community service event that I wrote about was the Fourth of July clean up in Seattle – picking up litter on July 5th!
What's particularly interesting is that Starbucks has partnered with other companies to magnify the number of hours given to community service this month.  For example, in Boston there are events coming up quickly this week for the Greater Boston Foodbank, and Starbucks partners will be volunteering side by side with Fidelity Investment employees.  Those events are this week!  Hopefully you can still get involved.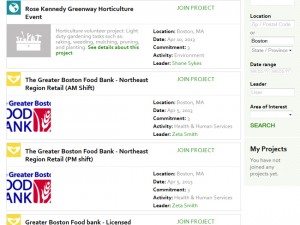 In San Francisco, there are projects planned in partnership with Square employees.  And in Chicago, Deloitte employees with volunteer with Starbucks partners on local community service projects.
Anyone can create a profile, and use the Starbucks Community Service website, so I hope you will join in!  I haven't figured out yet what I'll be doing.  Don't be surprised to find me weeding and mulching one Saturday with Starbucks partners.  According to the Starbucks press release, there are more than 2,700 projects across 40 countries.  Now that's amazing!
The bottom line is that I hope you'll find a way to join in.  Hopefully you can find a project near you!
Related posts