Today was incredible.  Starbucks partners (and many others) planted 3,050 trees as part of a re-forestation project during the Starbucks Global Month of Service.  Less than one year ago, the Taylor Bridge Fire did a great deal of damage to the Cle Elum area of Eastern Washington.  I would say that over 100 Starbucks partners, a number of customers, and other volunteers worked to plant trees in a damaged field.
I have to give a ton of credit to Sherri, a Starbucks store manager, who brought many people together: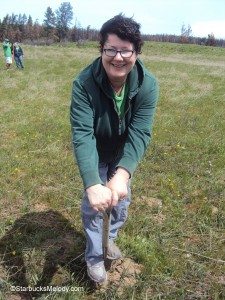 Sherri coordinated volunteer sign up, worked with the Red Cross, secured donations, and made this happen.  She had emailed me fairly early on (we'd connected previously via email due to this blog), and asked me if I wanted to come out and help.  I immediately said "yes."
Thank you Sherri for your amazing commitment to be involved.  I know that before she was in Eastern Washington, she was a store manager in Kansas City, and worked very hard to arrange community service events there too.  She's totally in her element when she's arranging a team for an AIDS walk, getting people to sign up for a forest re-planting project, or getting donations for breast cancer research.  Starbucks is lucky to have her.
One Starbucks Support Center partner (whose name I cannot recall – sorry!) had been able to get some of the little tiny seedling trees donated.  Apparently, she worked with the paper supplier who provides paper for the Starbucks cups in stores, and got them to donate 1,000 tree seedlings! Here's what the trees we were planting looked like: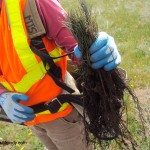 Starbucks partners set up the quintessential Starbucks tent and some refreshments, and then we headed out into an extremely large field.  Here's the tent being set up: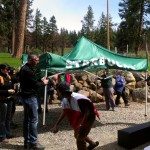 And everywhere we looked, the views were gorgeous.  The weather cooperated nicely.  It was warm enough, and luckily it wasn't raining!
As we ran out of little tree seedlings, we'd run around looking for designated individuals who carried large backpacks of seedlings.  And we'd grab a handful more, and go back to work planting them.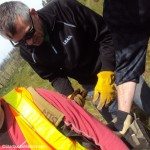 And towards the end of the event, Smokey the Bear dropped by!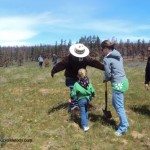 The group photo at the end was pretty cool!  There were baristas, store managers, district managers, and so many people who came out to help.   Cliff Burrows, President of the Starbucks Americas, volunteered too.  Smokey the Bear dropped by too!  There were even people who just lived in the community who joined in.  I spent a large amount of time planting trees with an Ellensburg Subway store manager (Jeremy), who had wanted to help do something in his community!  This was definitely work!  I was glad to pair up with others to plant the trees.  It was easier to work in a team of two – one person shoveled, and the other person planted the little tree.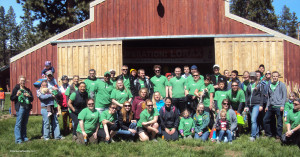 Last year, the Taylor Bridge Fire had scorched 40 square miles, and destroyed 60 homes.  A few fire fighters ,who had risked their lives during that fire, showed up to today's event.  As I understand it, they protected thousands of homes and structures like this barn with defensive water walls.  The damage could have been far worse.
This event was part of Starbucks' Global Month of Service, and so there were events all over the world where partners were giving their time to their communities.  I know there  were projects with food banks, community clean-ups at non-profits, park clean-ups.  I have always believed that "many hands make light work," and Starbucks always proves this to be true!
If you haven't visited the Starbucks Community Page, I recommend that you do!
(As always, click onto the images to make them larger.)
Just a couple more pictures:
Related posts