Giving to Guatemala (Starbucks partners with Save the Children.)
Melody, January 12, 2014
1
2 min

read
I dropped by a Starbucks in North Seattle yesterday, and noticed this poster on the community board: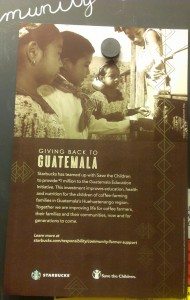 I thought this was pretty cool, and I realized that it would be easy to not notice this partnership.  (It would be very easy to run in and out of store and not see a poster on a wall.  And I don't know how you'd ever see this if you're just using a drive thru.)  According to the poster, Starbucks has committed to a one million dollar donation to Save the Children.  The poster refers you the Starbucks website but there isn't a lot of detail there about this partnership.  I found this information on the Save the Children website:
As part of its Shared Planet initiative, Starbucks has partnered with Save the Children to benefit children and families in coffee-growing communities, an important element of Starbucks' responsible sourcing approach. In Indonesia's Aceh province, we are assisting 40 villages with improved healthcare programs that focus on the needs of pregnant women and young children as well as establishing early childhood development programs for children under the age of five. In rural Guatemala, we have already brought bilingual, multicultural education to more than 11,500 students with culturally appropriate curricula that emphasize their Mayan tradition. Starbucks partners (employees) have also contributed to the improvement of schools in Guatemala, donating funds to help establish libraries and playgrounds on the school grounds.
I always like hearing about Starbucks donations to good cause organizations.  To be honest, I don't think Starbucks always does a great job of making that message wide-spread.  So it seems as though there's a renewed partnership with Save the Children.  I like it. As simple as that.  Hope you do too.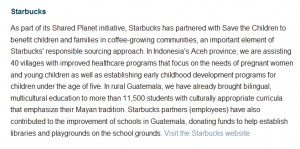 Related posts