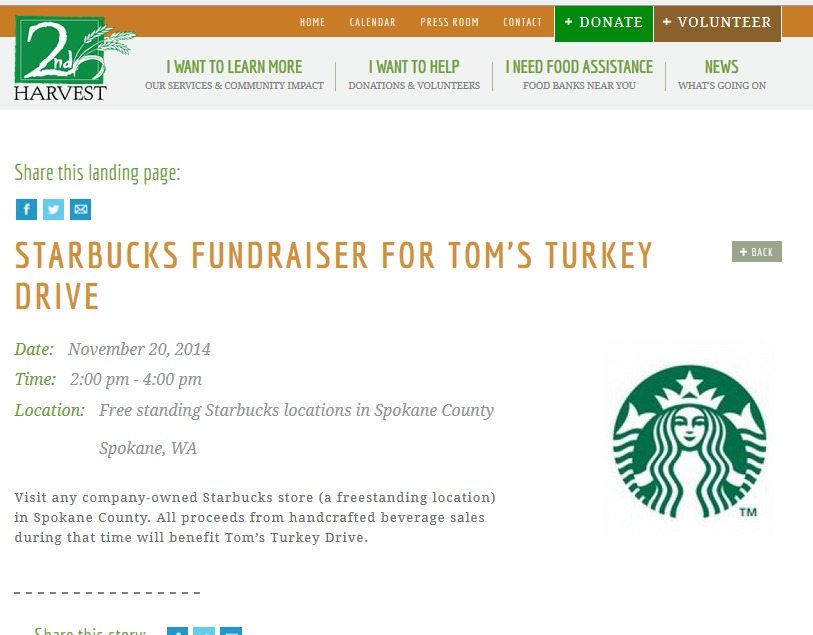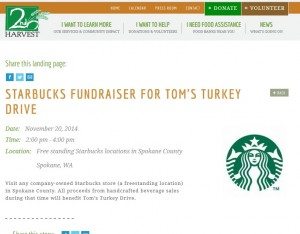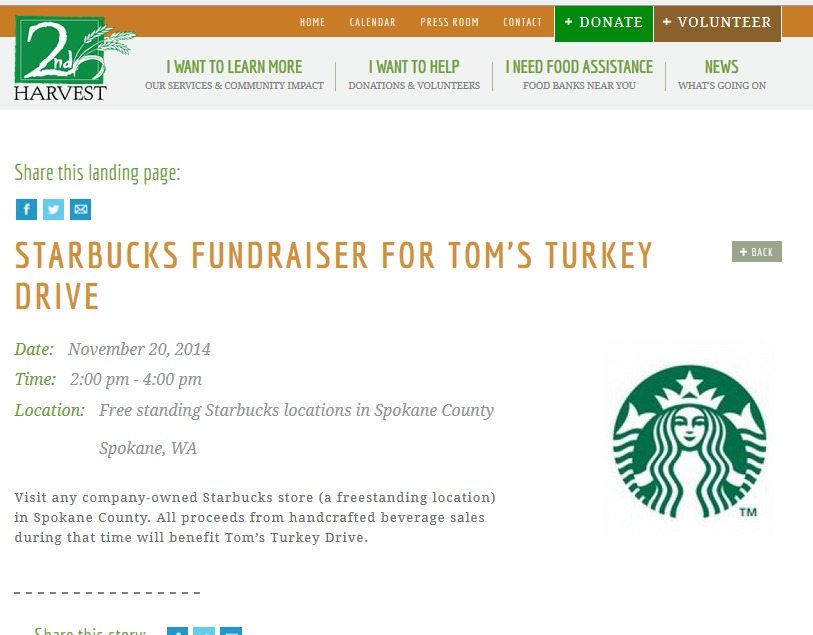 About 20 Starbucks stores in Spokane, Washington will be participating in a massive fundraising drive for the hunger relief organization, 2nd Harvest. It's a one day event, tomorrow November 20, 2014, from 2:00 PM to 4:00 PM at all company-operated Starbucks stores inside the city of Spokane.
Here's how you can participate:
Where: Visit any company-operated Starbucks (in Spokane, Washington) tomorrow (11/20) from 2:00 PM to 4:00 PM.
What you as a customer should do: Order and enjoy a handcrafted beverage.
All proceeds from sales during that two hour window will be donated to "Tom's Turkey Drive," which is a fundraising initiative of the non-profit hunger relief organization, Second Harvest ("2nd Harvest" per their online sites).
A Starbucks store manager in Spokane contacted me, asking for me to spread the good news about her event. This is the perfect example of using scale for good! I always love hearing about when Starbucks does this kind of thing. Of course, I'm happy to pass on this kind information! My understanding is that three district managers worked together to coordinate this event. The partner who wrote is from the Shadle Park Center Starbucks – be sure to drop by her store and support this good cause!
If you like reading about these kind of good cause Starbucks partnerships, I just recently wrote about good cause partnerships involving Starbucks stores in Orange County, California, Charleston South Caroline, and here in Seattle too. On a related topic, Starbucks also operates a small number of "Community Stores" which continuously share their profits with local good cause organizations.
Hope you get the chance to stop by a Spokane Starbucks tomorrow afternoon!
Related posts