Starbucks Around the Globe: Mexico (Episode #2)
Melody, March 5, 2010
11
2 min

read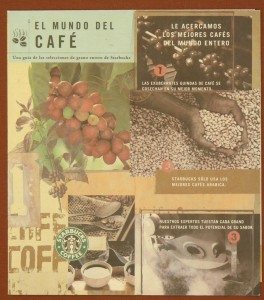 This is the second of three blog entries where we briefly take StarbucksMelody to international places.  This episode is Mexico.  Again, there will be no in-depth analysis here, just dipping the big toe into the shallow end of the pool.  This beautiful coffee menu comes from a friend who took a vacation to Mexico about one year ago.  Notice that the whole bean coffee offerings offer a true variety and far more decaf options than what is available in North America.  Really, I'm writing this blog entry to share with all of you this cool menu from Mexico.
As for a little background on the Mexico Starbucks market:  Starbucks has operated continuously in Mexico since September 2002.  Usually I can find some sort of Starbucks newsroom press release giving precise information about the history of the entry into a new market but in this case, I couldn't find any such press-release.  One online news source cited the entry date as September 5, 2002, and another one cited September 7, 2002.  I am certain though that the first Starbucks, in the heart of Mexico City, represents Starbucks first foray into Latin America.
Despite that Starbucks has only operated coffeehouses in Mexico for less than a decade, this country has held a special significance for Starbucks for their work that has been done in partnership with Conservation International and especially in the Chiapas region of Mexico:
The Conservation International website tells of the following history with Starbucks, dating back to 1998:
Starbucks was quick to see the importance of protecting El Triunfo and similar areas worldwide that bordered prized coffee-growing farms. Together, we launched a three-year program encouraging coffee growers in Chiapas to continue their sustainable farming practices. In return, they received technical assistance from CI's field staff and Starbucks became a dependable buyer of the farmers' beans.
That initial collaboration quickly proved successful. Within a year, the number of farmers taking part in the Chiapas project increased by 30 percent. Some of them doubled their sales, and their average incomes jumped by 40 percent. At the same time, U.S. consumers enthusiastically embraced a new Starbucks brand: Shade Grown Mexico.
The first of the three "Around the Globe" episodes on StarbucksMelody was Japan.  Click here for the Japan episode.
And if you enjoyed this Mexico episode, you may also like the following:
Related posts