Starbucks opens a Reserve store in Poland
Melody, September 23, 2012
13
3 min

read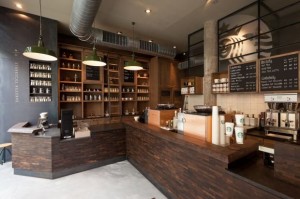 One of my regular readers (a Starbucks partner in Poland) emailed me recently to say that Starbucks has opened its third "Reserve" location in Europe.  It is in Wroclaw, Poland.  The first two locations are in Amsterdam and Moscow. (I don't know which came first).  I had also thought that London had at least one Reserve location, but perhaps Wroclaw is the third on continental Europe.
The partner in Poland attached a series of photos of the new Reserve Starbucks, and as I understand it, it opened in June.  I have to admit, I tossed and turned a bit whether I should produce a blog article out of this.  I was a little concerned with the legalities of using the photos (obviously I did not take them), and I wasn't sure I had much to say about it.
The Reserve Starbucks in Wroclaw is so striking that I can't resist showing them off here.  My understand is that these photos were part of local PR promotion and open to blog distribution, and the copyright holder is Starbucks EMEA.  I suppose if they want me to take them down, they can contact me!
I saw a few things in the photos that I want to call attention to.  First off, I love the light fixtures.  I definitely have a preference for certain Starbucks light fixtures.  There is no doubt that the light fixtures featured in this Starbucks are intended to be reminiscent of those found in 1912 Pike Place.  I talked a bit about the 1912 Pike Place light fixtures in this previous blog post.
I know it might be a little thing to always be noticing the lights at Starbucks, but somehow it's a detail that I always pay attention to.
Next, I noticed that in the photos you can see the "slow coffee" station, offering the Reserve coffee by the Pour Over brew method.  As many readers know, I am a fan of the Pour Over – when it is done right!  I think it will be interesting to see if the few Starbucks Reserve stores overseas eventually add a Clover brewer.
And of course, one obvious talking point about this store is the fireplace.  It appears to be a real fireplace that really burns wood logs.  That is a cozy touch!  And last but not least, I noticed that in the photos you can sort of see a very oddly designed wire mesh chair.  I am not even sure if I am seeing that right.  It doesn't look comfortable.
If you want to visit, here's the store's location: ul. Olawska 1/1 Wroclaw, PL-DS 50-123  Poland.  I hope you enjoy these photos.  It's always interesting to see what Starbucks is doing in other countries.  The international category on this blog is here.
Enjoy!
(There are more photos of this Starbucks store in this blog post here – a great article to skim through the photographs, though be warned it's in Polish and I have no idea what it actually says!)
Edit: I had erroneously said that this store is in Warsaw, but it's actually in Wroclaw.  The article is fixed, but not that the images still have the city Warsaw mentioned.)
Related posts