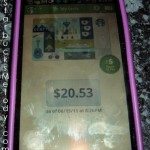 Today (6-15-11), Starbucks launched a Starbucks card app for mobile payment with an Android phone.  I  downloaded the app and decided to give it a try.  I was a little suspicious of it.  Upon hearing that satisfying beep sound that I had paid with my phone, I realized that I finally stepped into the 21st century!  Yes indeed, it was a little bit exciting!  Your Android phone has to be running 2.1 or higher (please don't ask me to explain what that means, because I'm not totally sure) and all you do is go to the Android Market and download the free application:  https://market.android.com/
It doesn't take long to download the app.  Once it is installed, it is right there listed with all your apps.  If you already have a StarbucksCard.com account, just sign in and your cards will automatically be imported to your phone.  I had one funny error message pop up when my cards were being imported:  I have one card registered which was a gift from a reader in Canada.  The app sees that as an international card, and will not import it.
If you don't see your main card, click on the card image in the upper right corner of the screen to view all your registered cards:
My favorite little features are the descriptions of My Starbucks Rewards, under the "menu" area of the app.  Click on "Menu" on your phone, and then click on "My Rewards," and then when you click on "More Info," you'll see a description of the three levels of My Starbucks Rewards.
So there you have it!  There are more features on the app, but this is what caught my eye.  I know that I am really late to the game when it comes to mobile payment.  There has been an unofficial Android app for a long time but I've never downloaded it or used it.  Somehow I thought that I would never join the crowd of paying for my drink with my phone, but I might have to eat my words now.
Sorry the photos are so horrible.  I just snapped a few pics of my own phone.  There are a few official Starbucks pics out there for use by media, but I thought it would be much more fun to use my own phone.
So do tell, are my readers using this app?
Just as a reminder, during this year's annual meeting of shareholders, Annie Young-Scrivner mentioned that Starbucks hopes to eventually allow people to earn "stars" at their local grocery store for qualifying Starbucks grocery items.  It seems like we're probably a long long ways from that still, but launching apps with a variety of features is probably a step in the right direction.
Related posts