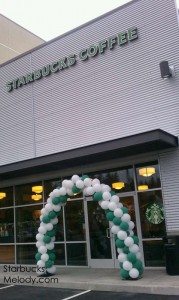 Today (June 17, 2011)  is the grand opening of a brand new Starbucks in Lynnwood, Washington.  Since there aren't that many new company-operated new store openings in North America (compared to what it once was), I love showing off new stores here.  And, it's super fun to see the new logo hanging up in the window.  This new Starbucks has a fireplace, a large lobby, and it is a drive-through location.  I noticed the rug in front of the fireplace – an unusual bright checkered pattern.  I wonder if there is a story behind the rug.  In celebration of opening a new store, all the partners were wearing white t-shirts with the new logo Siren on them.  I thought it looked really cool!  I wouldn't mind seeing partners all wearing the new logo t-shirts at any Starbucks.
I have to assume that this new Starbucks is LEED Registered, though I don't really know that for a fact.  The newest store designs by Starbucks incorporate the "repurposed" materials look which is one of several features that are part of LEED Registration.  I always recommend a close read of this blog post here if you're unsure of what LEED Certification really means:
I talked to a number of partners who were working, and asked the bar barista ("Hannah") what her favorite whole bean coffee is.  She replied French Roast.  I too drink French Roast because my boyfriend really likes it, but I admit, I can quickly get tired of French Roast.  I had a fine visit.  The partners were friendly, I thoroughly enjoyed seeing a brand new store on its first day open.  There have only been a few times where I've reviewed new Starbucks stores on the day the opened or very close to the day they opened.  I managed to get to the Seattle Children's Hospital Starbucks on its opening day.  I also wrote about the new beer and wine Starbucks location in Portland, Oregon, having visited two days before it opened at a special preview party.  By random luck, I visited the Deer Park, Illinois, Starbucks only 12 days after its grand opening.  (That store opened May 6, 2011, and my visit was actually Saturday, May 28, 2011, though I'm not sure I clearly said that in that blog post!).  I went to a "media preview event" of the Roy Street non-branded Starbucks the day before it opened, and blogged about that store too.
So enjoy the photos of this pretty new store.  Since it is a drive thru location, I included a couple of drive thru pictures too.
If you want to visit this store, here's the address:
Starbucks store #15402
2902 – 164th Street SW, Building G
Lynnwood, WA 98037
425 787 6106
Sorry this post is a little bit short and sloppy! I managed to get this new Starbucks after work hours today, and typed up the blog post fairly quickly.
Related posts