The newest Chicago area Clover Starbucks store: Park Ridge
Melody, June 14, 2011
37
3 min

read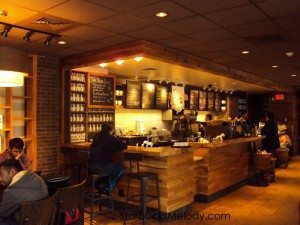 Are you looking for a Chicago area Starbucks with a Clover, an ATM, and passionate partners?  Park Ridge is your answer then.
A Starbucks in Park Ridge, Illinois (near Chicago) recently went through a major remodel and now has a Clover brewer.  I had the chance to visit this store on May 29, 2011, met the store manager, and took some photos of this pretty store.  And to boot, I had a great time chatting with the District Manager who has recently relocated to Chicago from Frankfurt am Main.  This little Clover store really has a lot of personality.  First off, it would definitely be the only Starbucks I've ever seen with an ATM machine inside the actual Starbucks.  I am told that the this space was a bank before Starbucks leased it, and under some agreement, the bank was permitted to continuing having an ATM in it. Here it is: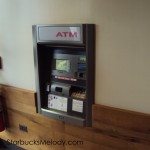 The next quirky thing that happened was that immediately I noticed that the coffee selection included a very special coffee.  I noticed Pike Place Special Reserve offered for sale.  This coffee is NOT the same coffee as Pike Place Roast.  It is (or supposed to be) only for sale at two Starbucks:  (1) The first store located at 1912 Pike Place, and (2) a newer store on the corner of First and Pike very close to the entrance of the Market.  I immediately asked the partner I was with about it, explaining that this coffee was 'specially reserved' to the Market.  The partner (Paul G.) explained to me that it was a "mistake shipment."  I have to admit that I was totally stunned.  I just wasn't expecting to see something so exclusively Seattle, over 1700 miles away from home.  Much later, I realized that Starbucks doesn't have much of a system for store managers to return mistake shipments.  Still, it seemed like bizarre odds to fly across the country, and stumble upon one store with a "mistake shipment" of Pike Place Special Reserve.
At this store, a partner had prepared a coffee tasting of Pike Place Roast using three different brew methods.  The first tasting was drip brewed coffee.  The second tasting was via the pour over, and the third was the Clover brewer.  It certainly is true that the brew method affects the flavor of the coffee.  This becomes really obvious when you drip brew Espresso Roast, and then compare Espresso Roast as an Americano (espresso brew method).  Drip brewed Espresso Roast is totally delicious and obviously tastes totally different than a shot of Espresso Roast.  I would say that Pike Place Roast was drinkable from the Clover but there's no doubt this is still my least favorite coffee.  It's not a complex coffee and the body is too thin and light for my own tastes.  Ironically, I have had Pike Place Roast as a solo shot from a La Marzocco, and I would say that this coffee works fairly well as a solo shot.  However since most people load their espresso with sugar and milk, the light-bodied profile of Pike Place Roast likely wouldn't hold up to such overwhelming competing flavors.
The store manager was very passionate about his store and was eager to show off all the beautiful woodwork and detailing in his store.  I learned that this store is roughly about 2000 square feet, and originally opened up in October 2000.  The store relaunched with the Clover the first week of April 2011.
I definitely recommend dropping by.  You'll find an ATM, a Clover, and passionate partners.  Here's the address:
Starbucks Store 2461
100 S. Northwest Highway
Park Ridge, IL 60068
(847) 692 0435
Enjoy the photos!
Related posts