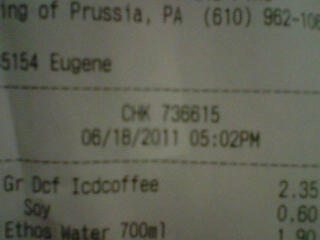 I've heard people say (mostly through twitter conversation) that Starbucks is testing Decaffeinated Iced Coffee in the Northeast.  On Saturday June 18th, I was having a conversation with a twitter friend (Anthony) who happened to mention that he just got a Grande Iced Decaf Coffee.  I thought that was really interesting.  It is definitely not something that we have in Seattle.  To be totally honest here, I don't know if this is seasonal or a permanent offering, or a regional offering in the Northeast … I am hoping some of my readers might know?  With his permission, I've attached a photo of his receipt showing the beverage.
He purchased his drink from the Starbucks in King of Prussia Mall.
King of Prussia Mall Starbucks #10171
609 West Dekalb Pike
King of Prussia, PA 19406
Decaf Iced Coffee is something that comes up over and over again as a repeat request on MyStarbucksIdea.com too:
So as I mentioned, I can't say much about this topic because mostly what I know is guess work.  I was thinking that my readers might find this interesting too.  What do you think of the idea of Decaf Iced Coffee at Starbucks?  If anyone knows the 411 on this, please do tell!
Thank you again Anthony for sharing this info.
Related posts