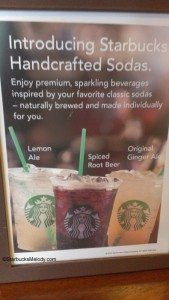 Starbucks is currently testing their own root beer and ginger ale.  I had the opportunity to try these and wanted to share that here.  First off, before I go any further, I always have to provide the reminder that just because Starbucks tests something – be it a Marshmallow Mocha or Peach Tea – doesn't mean that it will make it to a national launch.
I took a trip with a friend to a Starbucks testing these items.  I saw three main things being promoted:
1) Sparkling teas and sparkling Refreshers:  This was actually no surprise to me.  Starbucks has tested "sparkling iced teas" on multiple occasions.  If these ever makes it to a national launch, I will not be surprised.  There was a very early test called "Teas That Mingle," which involved a variety of sparkling teas.  I think that Starbucks simply used carbonated water to make the teas.  That was in 2008, and I assume that the technology to add CO2 to a product wasn't a sophisticated as now.  Sparkling iced teas are currently available at the Tazo store too.   Since this isn't a wholly new test item, I won't review it here.  I already know from visiting the Tazo Tea store in Seattle that I do like a sparkling iced tea.
2) Sparkling root beer:  This was crazy good.  Since I knew I wasn't going to be able to easily return to this Starbucks, I drank two Venti Starbucks root beers!  I just couldn't stop.  It's advertised as a "Spiced Root Beer,"  but whatever spice element there is, is absolutely subtle.  It's sweet, refreshing, and a lovely distinctive root beer flavor!  I think this is a great adjacent product idea for Starbucks.  I'll be honest, when I go into Starbucks, I drink a lot of coffee.  But  I am constantly looking for other options too.  This would be great in the same lineup category that includes the Refreshers.  Starbucks root beer solidly gets two thumbs up from me!
3) Sparkling ginger ale and lemon ale:  I tried the ginger ale but not the lemon ale.  To be honest, I am not a fair reviewer of the ginger ale because I've never been much of a fan of ginger ale, generally speaking.  But I still think this is a great creative idea.
A customer can also order any Refresher as a "sparkling" Refresher.  The friend that I was with ordered her Cool Lime Refresher as a sparkling beverage, and I tried a sip and loved it.  I wish I could have hang out at that store with these test items drinking drink after drink!
Later on, I was sitting at Olive Way talking to a partner (not working) about these test items, and she asked me, 'How were they made Melody?'  From what I could see, the root beer came in a slender, white container, similar to a lemonade or strawberry puree container.  The barista poured a little into a special shaker, added water, and then placed it into a special machine that seemed to be simultaneously shaking it and adding CO2.  It was sort of fun to watch!  Your drink bounced around in a machine.  The partner I was sitting with exclaimed, 'I want that machine!  Then my arm won't be so sore!  We shake a lot around here!'  Man, it's true that retail is hard on the arms.  Even if the root beer never makes it to a national launch, I hope the machines do.  I can imagine sparkling teas being a national success, and I think partners will love the shaking machine!
Check out other Starbucks test items here.
Related posts