Starbucks is offering new Evolution Fresh Smoothies in a number of their stores in San Diego and Baltimore.  I haven't tried one yet, but I am definitely curious about it.  The new Evolution Fresh Smoothies are far from a secret – there already is an official Starbucks blog article on these new "pure and simple" Evolution Fresh Smoothie beverages:
I've been trying to gather information on these new smoothies.  So far, from what I've learned from emails, tweets, and Facebook, these test smoothies were launched in early September this year, and scheduled to end towards the end of November.  All of the new smoothies are made with a juice base, Greek yogurt, and fresh fruit.  All of the smoothies are under 250 calories.  The three standard test smoothies are as follows:
Strawberry – Banana
Greens – Banana & Pineapple
Mango – Pineapple
And, when you order these drinks (non-customized) here is what they look like: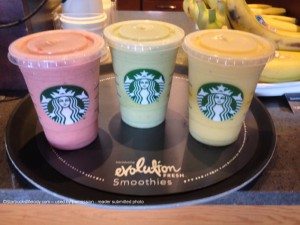 This isn't the first time that Starbucks has experimented with new smoothies.  My gut instinct is that, for at least a while now, Starbucks has sort of felt that the smoothies were due for a "refresh."  That's hard to explain, but the current smoothies haven't been through any dramatic recipe changes since their introduction in 2008.  And for those of you that remember, the current smoothies were introduced as the Vivanno Nourishing Blend, on July 15, 2008.  In May of 2012, Starbucks tested a Mango – Passionfruit Smoothie, which never made it out of a very small test phase.
As everyone knows, Starbucks thrives on customization! The partner who assisted me with this article commented that he noticed that some popular customizations to these new test Pure & Simple Evolution Fresh Smoothies: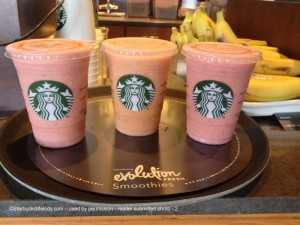 From left to right, what you're looking at are these popular customizations: 1) A Strawberry – Pineapple Smoothie 2) Mango – Strawberry and 3) Strawberry, with extra strawberry scoops.
I'm told that these smoothies are doing well, and that both customers and baristas alike are enjoying having them as a beverage option.  Personally, I think it's a great idea to leverage the Evolution Fresh brand into the Starbucks smoothies with better ingredients, and better options.  Starbucks recently introduced Evolution Harvest snacks by Evolution Fresh into their stores.  The person who emailed me the photos said that when you pick up the cup and look at your smoothie, you can see real fruit pieces in it.
The price of these new smoothies is $5.95.
As I mentioned, I haven't tried these.  But it's possible that I have some readers in San Diego or Baltimore who are familiar with these.  Feel free to weigh in.  Are you up for a big change in your Starbucks smoothies?
Related posts