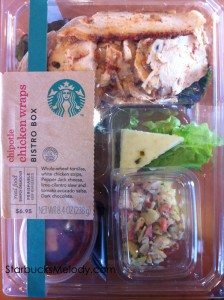 Starbucks is launching almost entirely all-new food offerings as of July 12, 2011.  The new lunch-type options are called "Bistro Boxes" and come in a variety of choices.  The United States versions of the new food boxes include a small piece of dark chocolate branded as "Starbucks Dark Chocolate."  I have heard that the Canadian versions of these Bistro Boxes skips the dark chocolate but is otherwise the same food box.
Here's a list of the new Bistro Boxes:
Protein Bistro Box
Cheese & Fruit Bistro Box
Chipotle Chicken Wraps Bistro Box
Sesame Noodle Bistro Box
Chicken Hummus Bistro Box
Chicken Lettuce Wraps Bistro Box
Tuna Salad Bistro Box
Salumi & Cheese Bistro Box
The salumi meat box, so I have heard, is actually the same salumi offering that has long been available at the Olive Way Starbucks as part of their "elevated" Starbucks experience platform.  I've had the meat platter many times, and it's delicious.  One of the meats on the Olive Way Salumi plate is very peppery, almost a bit too much for me, but I still like it.  I am really excited to try the new food on Tuesday the 12th!  They certainly look good.  Feel free to weigh in if you've tried these, or any conversation related to Starbucks food!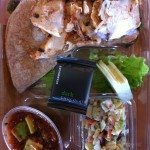 Related posts