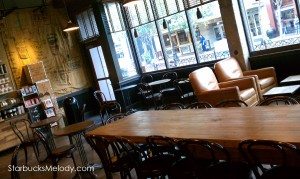 On March 13, 2009, Starbucks opened the gorgeous beacon Starbucks at the corner of First and Pike* Street, at the entrance to the Pike Place Market.  I still remember walking in that first day when it was brand new and taking it all in.  This Starbucks was the first in the new "heritage" design style, and one of the company's first stores to be LEED Certified, and it was the first Starbucks to get two Clover brewers.
The store's address is as follows:
Starbucks store #14870
102 Pike Street
Seattle, WA 98101
(206) 903 8010
This morning I got up early and walked down the hill to the First and Pike Starbucks.  It was roughly about 6:45 a.m. when I arrived, and the store was still stunningly quiet.  The store was so quiet at that hour that I immediately began to take photos of the near empty store.  In fact, I had wanted to drop by and take a close look at the lighting fixtures because it relates to a future blog post that I am working on.  I used my phone to take the pics, and not my camera because I wasn't initially planning a blog article.  (My apologies if they look low quality).
This was the first photo that I snapped.  I love the sight of the Public Market sign in the background behind the outdoor seating of the First and Pike Starbucks: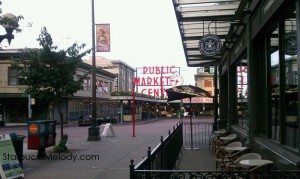 Once inside the store, there are small, round, signet-style plaques describing attributes and features of the store that helped lead to its LEED certification.  The lights inside the store are about the same shape, and similar style as those found in the first Starbucks (located a few blocks away at 1912 Pike Place).  I have heard that these lights are meant to echo the original store's lighting, and be reminiscent of that store; however there are a couple of huge differences.  The lighting used at First and Pike is energy efficient, whereas the first store uses its historic lighting fixtures, which consumes more electricity than this store.  Notice that there is a plastic covering piece  that says "Starbucks Fresh Roasted Coffee" on it.  I wasn't sure how to get a photo of the lights and get the words to show up.  This was the best one I took, after randomly pressing a ton of buttons on my phone's camera.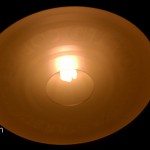 The two photos below are NOT from First and Pike, but rather from 1912 Pike Place.  I walked down to 1912 Pike Place and tried to take a couple of photos that featured the store's lighting fixtures:
Here's a photo of the lighting fixtures at First and Pike: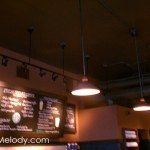 As I was wildly pressing buttons and clicking things on my phone, I inadvertently discovered that this store (First and Pike Starbucks) looks really kind of cool in "negative":
More than two years after its opening, the store is still an extremely photogenic store.  By the way, in the photos below you may notice that this store has some merchandise that is very unique, and otherwise is only available at the first Starbucks.  A few of the mugs are available only at this store as well as 1912 Pike Place, and this store offers the Pike Place Special Reserve coffee, available only at this store and 1912 Pike Place.
The store's first manager was Leah Regan.  She is a wonderful person, and I still really enjoy visiting with her when I see her at Starbucks events.  I miss her and wish that she were still the store's manager.  She radiates talent and intelligence, and stays upbeat all the time.  Unfortunately for this store (but good for the corporation) she was promoted  into a position at the headquarters.  Thankfully, Starbucks found a great partner to take over the store.  The current store manager is "Josh."  (Well, there was a brief interlude between Josh and Leah with a different store manager, who, mysteriously, was only in this store a few months.)
The store is so photogenic that it still pops up now and then in Starbucks-produced content.  Those readers who are familiar with MyStarbucksIdea.com are probably used to seeing this image of this store: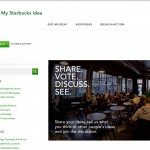 I realize that I didn't get a great photo of the store's large community table.  I wish I had taken a photo of that table the day the store opened.  Etched in the community table is artwork describing the life cycle of a coffee bean.  One of the store's walls is decorated with burlap coffee sacks from the Kent Roasting Plant.  Throughout the store the beams, woodwork, and many fixtures are from fallen trees and repurposed materials.  On one of the walls are historic photos of the first Starbucks.
So without delay, here are a few more pictures from my visit to this Starbucks today:
I featured some photos of this store in a March 8, 2011 blog article called "Starbucks CEO Howard Schultz rings the NASDAQ bell kicking off 40th anniversary festivities."  That's still a fun post to look at and highly recommended.
I hope you enjoyed a tour of this unique Starbucks!  Feel free to comment below.
*Pike Street and Pike Place are two different streets in Seattle.  Pike Place runs north-south, and is a small old, brick road inside the Market.  Pike Street is a larger, busy street, and it runs east-west.
Related posts