An early peek at La Boulange pastries at Starbucks. (@LaBoulange)
Melody, May 2, 2013
51
2 min

read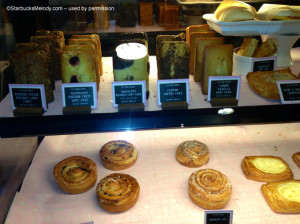 A reader was recently in a California Starbucks that offers the La Boulange baked goodies, and sent these photos.  (I  have not yet tried the La Boulange pastry items at Starbucks. )
I thought it was a fun early peek at what's to come.
Since I haven't tried them, obviously, I can't comment on what I like or don't like about La Boulange.  I will definitely be writing about La Boulange again, as soon as I try some of their pastries.
They certainly look delicious.  I do worry a little about the idea of having everything go through warming.  I'm not always going to want every single pastry to be warmed up.  And I haven't heard about any La Boulange item that reminds me of the Low Fat Cinnamon Swirl Coffee Cake – that's a good one!  Also, I hope that the Chonga Bagel will still be around after the launch of La Boulange.
I'm willing to keep an open mind, and I'm looking forward to try these soon.  In the meantime, here are some photos to give you an idea of what's to come.
La Boulange baked goodies arrive in Starbucks stores in Seattle, Portland, and Spokane, sometime next month.  Starbucks has said that it would take until 2014 before all U.S. stores are switched over – it will be a slow process of converting all U.S. stores to these pastries.
The reader indicated that the photos below show off the Blueberry Scone, Chewy Chocolate Meringue Cookie, Raspberry Passion Loaf Cake, and the Tomato and Cheese Croissant.  I hope I got that right!  The one that is the Raspberry Passion Loaf Cake looks just amazing.
Feel free to weigh in.
Related posts