Traveling all over the world to Starbucks: Hamburg, Germany
Melody, March 13, 2011
22
2 min

read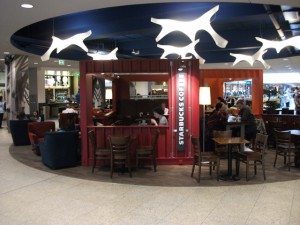 Manchmal besuchen wir die schönen Starbucks Filiale auf der ganzen Welt.  Der nächste Haltepunkt ist angekommen:  Hamburg, Deutschland.  Zum Glück ist Sebastian Birr in diese Stadt kürzlich gefahren.  Er hat viele Fotos gemacht, und ich möchte gern euch diese Bilder präsentieren.  Von ihm habe ich gelernt dass es 13 Starbucks im Hamburg gibt.  Die letzte Eröffnung passierte October 2010 "at Hamburger Meile" mit besonderen außen Sitzfläche, die wie ein Schiffscontainer aussieht.  ("Hamburger Meile" ist ein grosses Einkaufszentrum.)  Auch im Hamburg Starbucks Moenckbergbrunnen teilt seinen Platz mit Elbphilharmonie Cafe und "Cultural Center."  Das erscheint als ob dies irgendein Theater ist. Übrigen hat Hamburg der größten und wichtigsten Hafen in Deutschland.
I thought I'd practice my German a little with this blog post.  Here's what I wrote:
Sometimes we visit beautiful Starbucks all over the world.  The next stop has arrived:  Hamburg, Deutschland.  Luckily, Sebastian Birr just recently traveled to this city.  He took lots of pictures and I would love to show these off to you-all.  I learned from that there are 13 Starbucks in Hamburg.  The most recently opening (of a new store) was in October 2010 at the Hamburger Meile with unique exterior seating, which appears like a container.  Hamburger Meile is a large shopping center.  Also in Hamburg, Starbucks Moenckbergbrunnen shares its space with the Elbphilharmonic Cafe and Cultural Center, which appears to be a theater.  By the way, Hamburg is the most important port in Germany.
Alrighty, hope you in enjoy the photos!
((If you like reading about international Starbucks stores, I recommend viewing all the previous posts about international stores by browsing the "Starbucks – International Markets" category tab.  The most recent previous blog articles about international stores come from Kyoto, Japan, which is quite a bit south of the devastating earthquake on March 11, 2011.  I'm sure many readers, like me, right now feel a lot of worry for our friends, partners, and the people of Japan.))
Related posts